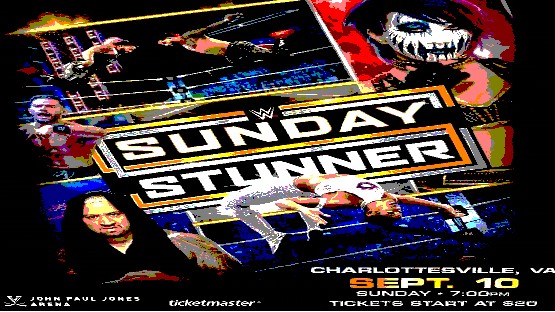 Good news for local wrestling fans – plenty of low-priced tickets are still available for the WWE Sunday Stunner at JPJ next weekend.
This is, of course, not so good news for WWE, which is having to work harder than it would like to try to get butts in seats for the Sept. 10 show.
I was able to snag three sixth-row floor tickets at $20 apiece last week thanks to a 24-hour promotion aimed at getting the tickets moving.
A review of the ticket-resell sites this morning shows scads of tickets available for the show under $30.
The show should feature a decent amount of talent – the next night, WWE will be in Norfolk for a televised "Raw," so I'd expect as close to the full "Raw" roster to be in Charlottesville as possible.
Advertised for the show, we're supposed to get Cody Rhodes vs. Finn Balor, LA Knight vs. Austin Theory and Charlotte Flair vs. Asuka, among others.
As always, the card is subject to change, so, we'll see.
The one thing that you get at a house show that you don't get much of at a TV taping – actual wrestling.
The TV shows are mostly talk, pre-taped segments, commercial breaks, and a tiny bit of live wrestling interrupting that flow.
House shows have wrestling, lots of it.
That having been said, if you want to make the drive to The Scope for what I'm telling you is the lesser of the two experiences by a lot, it looks like there's an abundance of good options for you to do so.
You can get in the building for the "Raw" TV show on the resell market for under $40, and if you want ringside – trust me, you don't want ringside; you get blocked by the TV cameras – you can sit there for under $150.
The floor seats at the JPJ show can be yours for as low as $75, unless they run another special, and you can get 'em for $20 like I did.
(Stay tuned.)
One other note about the JPJ show: from the seat maps online, it doesn't look like they're going to open the upper level, which, no surprise there, given how slow things are going for sales overall.
If you want to see WWE live and don't want to have to drive a long distance, better take this chance. Based on how slowly the ticket sales are going for this one, they may not be back for a while.