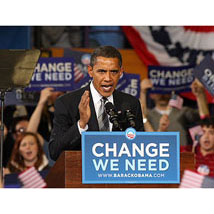 President Barack Obama's approval rating in Virginia is over 50 percent, and he would take the state in presidential voting if the election were held today, and by a comfortable margin.
Former Arkansas Gov. Mike Huckabee does the best of the expected Republican contenders and still trails Obama by a 52 percent-to-43 percent margin, according to poll numbers released by Public Policy Polling on Tuesday.
Obama, who in 2008 was the first Democrat to win Virginia's electoral votes since Lyndon Johnson in 1964, leads former Massachusetts Gov. Mitt Romney 51 percent to 40 percent, leads former Alaska Gov. Sarah Palin 55 percent to 40 percent, and leads former House Speaker Newt Gingrich 54 percent to 37 percent.
Billionaire mogul Donald Trump also trails Obama in Virginia – by a 54 percent-to-32 percent margin.
PPP also tested Virginia Gov. Bob McDonnell against Obama and found McDonnell, though popular among Virginia voters generally, still trailing in that hypothetical matchup by a 51 percent-to-43 percent margin.
And it's not just a post-Osama Bin Laden bump. "We've polled Virginia three times over the last six months, and have found Barack Obama in a very strong position every time," said Dean Debnam, president of Public Policy Polling. "It's going to be a big challenge for Republicans to win this state back."
Obama is rated favorably by 51 percent of Virginia voters and unfavorably by 44 percent. McDonnell has a 50 percent/35 percent favorable/unfavorable split, but only 20 percent of those surveyed by PPP would like to see him run for president, versus 59 percent who think a run at the White House would be a bad idea.