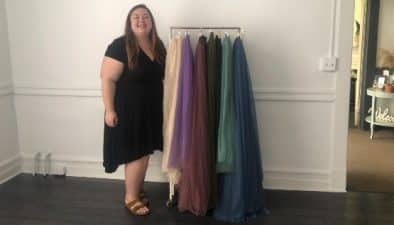 In 2020, Amanda Shrader of Staunton had just had her son and was looking for a skirt to wear in a family photo shoot with her husband and child.
Shrader ordered a skirt online and did not expect it to fit her.
"I just wanted to share the feeling," Shrader, 28, said. "I got this yellow skirt off Amazon and I've always been a plus-sized girl."
The feeling is of finding clothes that make you feel good and confident about yourself as a plus-size woman.
"It flattered me and it made me feel really beautiful and I felt like a princess. I just felt like a different person when I put it on," she said.
She began to collect skirts, and in July 2020 she photographed 13 women who were either already mothers or soon-to-be mothers. One of the women inspired Shrader to name a skirt after her.
"It was just really empowering and I got to meet a bunch of new moms and they got to meet each other."
As she collected more skirts, Shrader felt they would help empower more women. She now has more than 85 skirts and has worked with more than 100 women in The Skirt Project. The project has created a community of women and spreads the message to always love yourself and your body.
For the second year, on April 30, "Brunch with Beauties" will be held at Massanutten Creek in Luray to raise funds for the American Cancer Society. The ladies-only brunch honors Shrader's great-aunt Nancy, who died last year of breast cancer which metastasized to her brain.
"I really just wanted to bring women together," Shrader said of the brunches.
They are also held in honor of her grandmother, Nancy's sister, who is now battling stage 4 bone cancer, which metastasized from breast cancer.
"They were [and are] just two really important women in my life," Shrader said.
She wants the brunches to be sources of light, happiness and celebration in the community.
A few weeks ago, she added Valley Children's Advocacy Center in Staunton as a recipient of the brunch funds.
"It just touched my heart in a different way," Shrader said. She and her husband, Justin, live in Staunton with their 4-year-old son. Justin was adopted, so VCAC's mission is important to the Shraders. "I think, at any age, we need love and support, and more people to hear us and hear our stories, and just encourage us along the way."
Shrader said the women with the Skirt Project have been brave enough to tell each other their stories of losing a child, surviving abuse and living with depression. Part of the healing process is sharing the pain with others.
Shrader, a wedding photographer, co-founded Virginia Creative Collective a year ago in downtown Staunton with Jo Mahaney. The Collective rents natural light studio space for photographers. With a degree in graphic design, Shrader also works for Community Culture Thrift Exchange.
She said she hopes to raise at least $1,000 from this year's brunch and split the benefits between the ACS and VCAC.
"I just really hope people walk away with the message feeling that it is important to love yourself and to be positive and to be nice to others too."
Tickets for the brunch are available online.