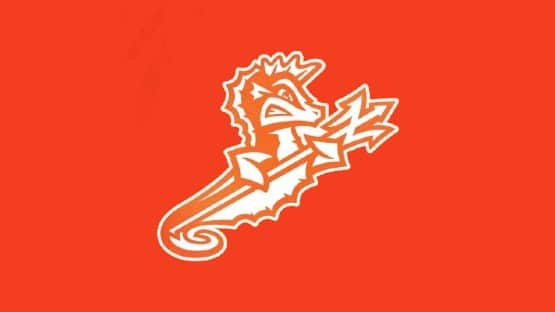 The Norfolk Tides (89-56) defeated the Buffalo Bisons (73-71), 11-8, on Wednesday night at Sahlen Field.
A pair of franchise records were broken tonight. Shayne Fontana's fourth inning single was the 1,332nd hit of the year for the Tides, surpassing the previous mark set by the 1987 team. Garrett Stallings' fourth strikeout of the night in the same inning was the 1,381st strikeout of the year, surpassing the previous mark set by the 2022 team.
Top prospect Jackson Holliday went 2-for-6 with two runs scored, extending his hitting streak to six games. Since his streak began on Sept. 14, he is batting .423 (11-for-26) with four runs, a double, a home run, two RBI and four walks while slashing .500/.577/1.077 over that span.
It was Buffalo, the Triple-A affiliate of the Toronto Blue Jays, who would strike the first blow tonight, with Orelvis Martinez singling to center field to bring two runs around in the opening frame, giving the Bisons an early 2-0 lead.
The Tides, the Triple-A affiliate of the Baltimore Orioles, answered by putting traffic on the basepaths in the third and eventually scratched a run on a Kyle Stowers single through the right side of the infield to cut the deficit in half.
An inning later, Norfolk put together a five-run frame, beginning with a historic single from Shayne Fontana that set the franchise team record for hits in a season. Fontana scored the tying run on a wild pitch and Colton Cowser came through with the go-ahead knock with a single to right. Each of the next three batters singled with Coby Mayo collecting a two-run base hit and Josh Lester adding an RBI single of his own to give the Tides a 6-2 lead.
With two away in the home half of the fifth, Rafael Lantigua doubled off the wall in right field to bring in a run to cut into the Norfolk lead, and trailed the Tides by three after the fifth came to an end.
Norfolk responded quickly with Cowser launching a solo home run the other way in the sixth. In the following frame with the bases loaded, Connor Norby unloaded on a hanging curveball to clear the bags, collecting his second grand slam in as many nights to give the Tides an 11-3 advantage.
The Bisons tacked one on in the seventh and added four more in the ninth, bringing the tying run to the plate with two outs, but the late comeback attempt fell short as the Tides defeated Buffalo by an 11-8 score.
Norfolk is back in action tomorrow night against Buffalo with first pitch scheduled for 6:05 p.m. Scheduled to take the ball for the Tides is LHP Bruce Zimmermann (4-6, 4.17) while RHP Mitch White (1-2, 5.75) will toe the rubber for the Bisons.