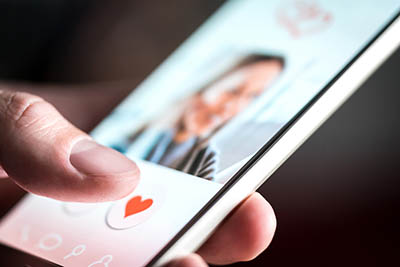 Looking for love this Valentine's Day? From the Tinder Swindler to a swarm of romance scammers, looking for love online could cost you. Before you swipe right, read on.
Americans have been the victim of numerous scams on dating apps and websites, and the cost on average $1,410 per victim.
The research by cybersecurity firm NordVPN shows that these scams are so effective that 75 percent of people caught up in the schemes end up losing money, which equals about 28.4 million victims in the U.S. alone.
"Millions of Americans look for that first romantic spark online every day, often because it can feel safer and less nerve-wracking breaking the ice via an app or website than doing so in person," said Marijus Briedis, a cybersecurity expert at NordVPN, "Our research shows that dating sites and apps are in danger of turning into the Wild West, with a gallery of rogues and criminals trying to take advantage of users searching for love."
These cons usually see fraudsters with a fake profile matching with a user and then dangling the promise of a romantic relationship to drain their bank account, often over several months.
"Be wary of sharing any personal information with new matches and take your time to make sure they have been verified by the site. Most online scammers are trying to deceive multiple users at once so will be looking to move the conversation on quickly, said Briedis. "Stay patient and if they soon mention money or suggest visiting another site or messaging platform that's a definite red flag."
The problem of romance scams is so severe that earlier this month Match Group – owner of dating apps and sites including Tinder, Hinge and OkCupid – launched a global safety campaign featuring tips to help its users spot swindles.
"Sadly, romance fraudsters like the Tinder Swindler are far from a rarity and users need to take measures to protect themselves from scams. Check the permissions on any dating app that you download to see what information the developers are allowed to share and consider using a VPN while online to improve your privacy," said Briedis.
As well as scams, the survey uncovered a range of bad behavior and issues that Americans have to deal with when searching for a partner online.
Nearly a third (30 percent) of respondents reported receiving more spam emails after signing up for a dating account, while 18 percent said that they found it difficult to delete their account.
During their time using the app or site, 27 percent said they had interacted with a fake account or bot, with the same proportion receiving indecent images they had not requested.
Meanwhile, for one in seven site users (16 percent), having a dating profile resulted in them being stalked online.
Some of the other highlights from the survey:
One in four people who have dated online (24 percent) say someone has faked romantic or sexual interest in them in a bid to steal their savings or personal data
The average U.S. victim loses $1,410 to romance frauds on dating apps and websites
Those aged 25-34 are most likely to be targeted by such scams, with a third (36 percent) gaining hoax admirers
45-54-year olds pay the most per scam ($2,432)
Over a quarter (27 percent) of daters received indecent images they hadn't asked for
One in seven (16 percent) of daters were stalked online
Nearly half (45 percent) of Americans feel dating apps don't do enough to verify users,
One in seven (14 percent) say stories about romance scams, like Netflix documentary "The Tinder Swindler," have put them off dating online
The survey found that men were 50 percent more likely to be targeted by an online dating scam and also paid an average of 42 percent more than women when they've fallen for one ($1,671 compared with $1,173)
Related stories
Making Super Bowl plans? You might want to consult the forecast first
Super Bowl Preview: It's Hurts vs. Mahomes in historic all-Black quarterback matchup
State police remind Virginians to add designated driver to Super Bowl party lineup
Show me the money! Super Bowl LVII betting likely to exceed $1 billion
What is the most expensive commercial in Super Bowl history? Ask Alexa
Super Bowl LVII: Where are the best and worst cities for football fans?
Super Bowl Sunday food guide: Where your wing sauce gets its kick