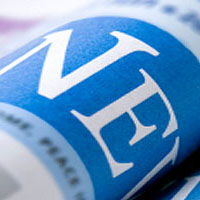 Recovery efforts continue along the James River today following yesterday's derailment and fire involving a CSX train transporting crude oil through downtown Lynchburg. Of the 17 derailed train cars, three fell into the river, resulting in an estimated crude oil release of 20,000 to 25,000 gallons. Environmental and rail transport investigations are expected to continue for several months.
"Since yesterday's accident my team and I have remained in constant contact with local, state and federal responders who continue to do great work keeping Virginians safe," said Governor Terry McAuliffe. "At this time we expect downstream impacts to the environment and drinking water to be minimal or undetectable. Local, state and federal entities are monitoring and sampling the James River for any impacts, and Virginia's drinking water continues to be safe."
The Virginia Department of Health (VDH) Office of Drinking Water (ODW) continues to work closely with CSX, Virginia Department of Environmental Quality (DEQ), U.S.  environmental protection agency (EPA) and local waterworks to monitor any potential impact of the oil spill into the James River. Waterworks have made operational adjustments for increased available storage capacity of drinking water to service consumers without interruption. Alternate sources of drinking water have been identified should the need arise. Filtration systems in place at waterworks are capable of filtering out possible contaminants.
Along the James River, DEQ is monitoring the river to determine whether there are any environmental impacts, and has collected water samples that will be analyzed for possible contamination downriver of the spill.
As a precautionary measure, VDH Division of Environmental Epidemiology recommends no recreational use of the James River from Lynchburg to Richmond (especially in any areas where crude oil or sheen may be present) until further notice. Recreational use includes swimming, kayaking, rafting, etc.
Nearly all businesses near the derailment have reopened since yesterday's evacuation. With no injuries or fatalities reported at this time, Lynchburg cleanup and recovery efforts are anticipated to finish today.