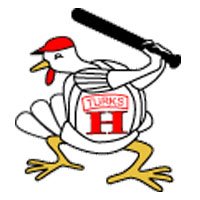 Jesse Baker's RBI single down the left field line in the 12th inning completed a 7-0 Harrisonburg scoring run in a 7-6 comeback win over the Aldie Senators on Friday night.
Brandon Gold, the Turks player who scored the game-winning run, had tied the game at 6-6 in the bottom of the ninth with a bases loaded single that brought home two runs.  He was also the winning pitcher after he threw three relief innings without allowing a run or hit.  Gold had started the game at third base.
The Turks had appeared to tie the game in the seventh inning when Matt Rose hit a ball over the left field fence, but the would-be three-run home run was ruled foul.  Harrisonburg manager Bob Wease was ejected from the game after arguing the call.
Aldie took a substantial 6-0 lead after scoring five runs in the top of the sixth inning.  Zack Holt, Joe Consolmagno, Garrett Vrbanic and Reese Strong all had RBI hits.
The win snaps a three game losing streak for Harrisonburg, which improves its season record to 18-10.  Aldie falls to an even 14-14 with the loss.  The Turks travel to New Market to play the Rebels at 7:30 p.m. on Saturday.