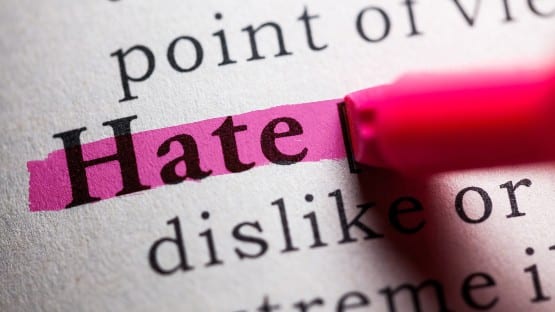 Flyers distributed throughout Harrisonburg over the weekend promoted hate in support of the Loyal White Knights, an apparent offshoot of the Ku Klux Klan.
Flyers were placed inside plastic bags at some homes in the Old Town neighborhood of Harrisonburg.
Similar flyers have been distributed this year in larger cities including Loudon County, McLean and Baltimore. In 2017 and 2019, flyers of a similar nature were also distributed in the City of Waynesboro.
"At this time, we have no reason to believe specific homes were targeted or that additional actions/incidents are pending," said Michael Parks, the Director of Communications for the City of Harrisonburg. "A google search for the organization will reveal numerous news stories about similar incidents where someone sought to spread fear and hate through these types of leaflets."
Harrisonburg Police were made aware of the flyers, Parks said.
Harrisonburg Police Chief Kelley Warner told AFP that the flyers are not a crime because of the First Amendment. However, she said, the HPD did report the incident to the Virginia State Police Fusion Center. She said the Fusion Center tracks hate groups like the Loyal White Knights.
She agreed with Parks that it did not appear that any specific person was targeted with the flyers.
"Hate has no place in Harrisonburg – a community known for being The Friendly City and one that strives to become A City For All where all people feel safe, valued and have abundant opportunities to be whoever they wish to be and become whatever they wish to become in life," Parks said. "It is disgusting that someone would try to intimidate members of our community and spread hate.
"Our community will never embrace this type of hateful rhetoric," he said.
The Council on American-Islamic Relations, a Muslim civil rights and advocacy organization, said it has asked for a hate crime investigation into the incident.
Allison said CAIR and the American Muslim community stand in solidarity with all those challenging antisemitism, systemic anti-Black racism, xenophobia, Islamophobia, white supremacy and all other forms of bigotry.
"We condemn the distribution of this hateful propaganda and stand in solidarity with the residents of Harrisonburg," said CAIR National Communications Manager Ismail Allison.
Related stories
Waynesboro on KKK flyers: Our hands are tied?
Waynesboro: We don't like the KKK, right?