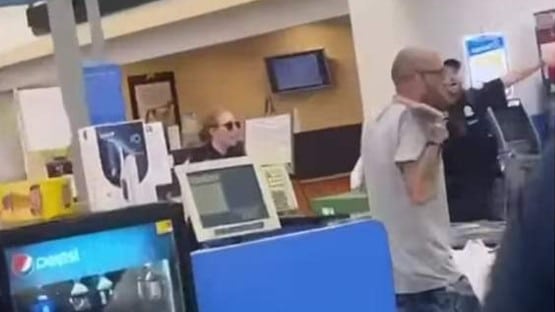 The family of a man who was shot and killed by a Rockingham County sheriff's deputy Sunday night is disputing the official story that is being told by authorities as to what happened leading up to the fatal moment.
Brandon S. Mills, 35, "was begging for help," his sister-in-law, Rachel Mills, told Augusta Free Press in a lengthy email Monday night.
According to Virginia State Police, which is leading the investigation of the officer-involved shooting, at the request of the Rockingham County Sheriff's Office, the Harrisonburg-Rockingham Emergency Center received a 911 call about an individual "acting erratic and threatening employees with a knife" inside the Walmart on Burgess Road in Harrisonburg on Sunday around 8 p.m.
A press release from VSP, based on reports from officers on the scene, makes the claim that Brandon Mills "immediately charged" at officers from the Harrisonburg Police Department and the county sheriff's office once they arrived on the scene.
Mills' sister-in-law, in her email to AFP, said "the full story is not being told" as to what happened leading up to the shooting.
Brandon, she said, suffered from severe schizophrenia and had stopped taking his medication three days prior to the event.
The reason he stopped at the Walmart, she said, "was he was seeking help."
"He said a red pickup truck was following him, and they were going to kill him," Rachel Mills said. "He went into Walmart and asked the cashier if he could use the phone because he was in danger, and the cashier told him to go to the customer service desk. No one was at the customer service desk, so Brandon went back to the guy at the register, paranoid and under the impression the people in the red truck were going to find and kill him. He was begging for help."
Mills said Brandon did have a pocket knife, "but the knife was not visible it was in his pants."
"There is a video where you can hear Brandon begging the police to help him, but they don't do anything except treat him like he was armed with a gun (and) pointing it at them," she said.
Mills sent a photo of Brandon at the scene with his hands up, and notes that in the photo, "he looks scared to death."
"When the police refused to actually help Brandon, he tried to run around them to leave, because if the police aren't going to help, who is. I'm sure that's what his thinking was, and the only reason he decided to run," Mills said, adding that Brandon "did not lunge at them, he was trying to escape, because he thought the people in the red truck were coming to kill him."
"He was not in any way, shape or form in his right state of mind, and people have clearly stated he was acting erratic. This should have been a clear dead giveaway to a truly properly trained police officer that this man needed help, not his life taken," Mills said.
"The officer who killed my brother-in-law, my kids' uncle, two boys' father, his wife, his mom, dad, uncle, aunts, etc., are now left without him because the officer choose to ignore the extremely visitable signs that Brandon was not in the right mental state of mind, and instead of helping him, like he begged, shot him three times in the chest," Mills said.
We passed Mills' lengthy email on what the family understands happened Sunday night at the Walmart on to the Virginia State Police. Sgt. Brent Coffey, the public information officer at VSP's Culpeper Division office, responded back with this note.
"The Virginia State Police encourages the family to share as much background information as possible so it can all be included in the investigative file," Coffey wrote back in an email. "Once the investigative file is complete, the findings will be turned over to the Commonwealth's Attorney for final review and adjudication."
We also reached out to the Harrisonburg Police Department and Rockingham County Sheriff's Office for comment on Mills' email.
The sheriff's office has not responded. Michael Parks, the director of communications for the City of Harrisonburg, did get back to us.
"I would like to address the topic of law enforcement response to an incident involving an individual experiencing a mental health crisis, since that issue is at the heart of the correspondence you forwarded to me. I am not indicating that mental health was or was not a factor with Sunday night's incident as I cannot speak to specifics regarding this case," Parks wrote in an email.
"The Harrisonburg Police Department is very cognizant of the needs that must be taken into consideration when reporting to an incident involving an individual experiencing a mental health crisis," Parks wrote. "HPD conducts in-depth crisis intervention training with officers in order to prepare them, as much as possible, for calls involving an individual in duress so they can respond safely and appropriately for all parties involved, including themselves. Mental health needs as it relates to law enforcement response is a matter that we take very seriously and will continue to take very seriously as we conduct training for current and future officers. Again, this is a general practice of HPD, and is not a statement specific to last night's incident."
To Rachel Mills and the Mills family, knowing generally that officers are trained to be able to deal with these kinds of situations is of little consolation.
"This is an injustice for our family and the numerous other individuals who suffered from mental illnesses and had their life taking away wrongfully," she said. "The family will be doing any and everything we possibly can for the office to be held accountable for his or her wrongdoings and getting justice for Brandon."