Eighth-ranked Clemson scored on four straight possessions spanning the second and third quarters to break open what was briefly a tight game and roll to a 59-10 win over Virginia on Saturday in Charlottesville.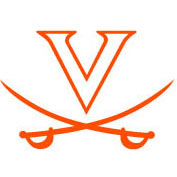 The loss was the sixth in a row for Virginia (2-7, 0-5 ACC), the last three of which have come at home.
The 'Hoos were within hailing distance midway through the second quarter, down just 14-7 and taking the ball over on downs after Clemson failed to convert a fourth down at midfield. But a David Watford pass intended for Darius Jenning was intercepted, and Clemson took advantage in short order, when Tajh Boyd connecting with Roderick McDowell on a 10-yard TD pass that made it 21-7 Clemson with 4:19 to go.
The Tigers (8-1, 6-1 ACC) would score twice more in the half, on a McDowell 25-yard run after a Khalek Shepherd fumble at midfield, and then on a Boyd 1-yard run with just 13 ticks to go in the half to cap an 86-yard, 55-second drive that pushed the margin to 35-7 at the break.
Whatever small amount of doubt that might have remained went away after Boyd hit Sammy Watkins down the right sideline on a 96-yard catch-and-run that extended the bulge to 42-7 four minutes into the third quarter.
That pass finished Boyd's day with 377 yards, four touchdowns, including the one on the ground, on 24-of-29 passing.
Alec Vozenilek hit a 40-yard field goal at the 8:55 mark of the third to cut the lead to 42-10, but that would be it for Virginia offensively.
Clemson's second-stringers added the rest of the scoring, on a 38-yard TD run by backup QB Chad Kelly, a 36-yard field goal by backup placekicker
Ammon Lakip, and a 10-yard run by D.J. Howard.
Virginia is back in action on Nov. 9 at North Carolina.
Game Notes: David Watford finished the day 16-of-35 passing for 130 yards and one INT, and eight yards on the ground and the one TD rushing. … Clemson gained 614 yards of total offense, and the Clemson D held Virginia to 277 yards of offense. The Cavs finished the day running for 114 yards on 39 carries, a 2.9-yards-per-carry average. … Clemson had 26 first downs, Virginia had 13. … UVa. punter Alec Vozenilek punted 12 times for a 43.5-yard average.