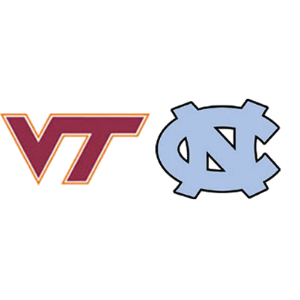 Both Virginia Tech and North Carolina enter their matchup Saturday at Kenan Stadium in Chapel Hill, N.C., with an ACC loss. One will leave with a second loss, and almost assuredly will see its chance to play for the ACC title in Charlotte in December come to an end.
The contest is one between a stoppable force and a moveable object, in a manner of speaking. UNC (2-2, 0-1 ACC) has given up 120 points in its last two games, a 70-41 loss to East Carolina two weeks ago and a 50-35 defeat at the hands of Clemson last Saturday. Tech (3-2, 0-1 ACC), for its part, has struggled to find a consistent winning formula, following up what appeared to be a program-defining 35-21 win at then-#8 Ohio State with back-to-back home losses to ECU and Georgia Tech, then letting Western Michigan hang around until late in an eventual 35-17 win last weekend.
The stats do not bode well for Carolina in this one. With the struggles for the Hokies, they've still been moving the ball at a healthy clip, putting up 422.5 yards per game in total offense. The hindrance has been turnovers, with Virginia Tech committing 12 through five games, including (gulp!) 10 interceptions thrown by first-year starting quarterback Michael Brewer.
Even with the INT issues, though, Brewer has had the Hokies moving the ball consistently, throwing for 244.6 yards per game and nine touchdowns, and the line has improved dramatically from the past two seasons, clearing the way for 174.6 yards per game on the ground.
Look for Tech to move the ball early and often against an overmatched Tar Heels D, which is giving up 543 yards per game total offense (no, that's not a misprint), and literally couldn't stop me, you and the first nine kids we'd encounter at the nearest elementary school from putting together a sustained drive.
To say that the defensive woes have overshadowed a fine first four games by the UNC offense would be understating it. North Carolina puts up 40.8 points per game and 438.5 total yards per game on offense, most efficiently through the air, where the Heels throw for just short of 300 yards per game, with Marquise Williams throwing for 896 yards and eight touchdowns.
Virginia Tech has had its own issues on defense, giving up 502 yards to East Carolina in the 28-21 loss two weeks ago and then getting gashed for 250 yards on the ground in the 27-24 loss to Georgia Tech a week later.
Look for this one to be a high-scoring, back-and-forth affair. The nod here goes to Virginia Tech, a 1.5- to 2.5-point favorite on the Vegas books, plus the points, the difference being that the Tech defense is just good enough to slow down the UNC offense enough to make up for the short field or two that the Tech offense will give to UNC.
– Column by Chris Graham