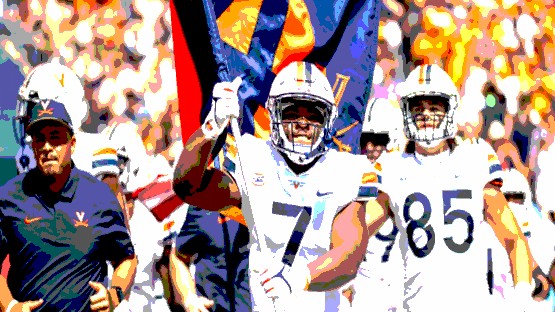 It can be hard to point to a game in Week 2 as a must-win game, but Virginia's season opener with JMU on Saturday is a must-win game.
The stakes got raised when Vegas weighed in, making the Dukes a six-point road favorite over the supposed ACC big boys.
For what it's worth, not much, pointing this out for posterity, the ESPN Football Power Index has Virginia as a slight favorite, with a 50.6 percent chance to win.
Even that, a couple of years ago, when Bronco Mendenhall and Robert Anae had the 2021 UVA team at 6-2 in control of its destiny for a second ACC Championship Game berth in three years, you would never have imagined it could have fallen so far, so fast, that you'd have to cling to being a slight FPI favorite over a Sun Belt team.
No offense intended there for JMU, which went 8-3 in 2022 in its first season in FBS, but JMU Athletics does what it does with spit and tape relative to UVA, which has an athletics budget nearly three times what JMU can bring to bear, with an almost infinitely wider donor base, access to ACC TV money and a stadium with two and a half times as many seats.
For all the advantages that UVA Football should have at its disposal, Vegas has it pegged right – JMU should be the favorite here, just based on what we know about these two programs right now.
Tony Elliott, who was hired in 2021 to replace Mendenhall after the shock resignation of the guy who had taken UVA to the Orange Bowl just two years earlier, went about completely dismantling the program that he'd inherited from his predecessor, starting with the offense, which had ranked third nationally in 2021 under offensive coordinator Robert Anae and with quarterback Brennan Armstrong at the controls.
Armstrong stayed around for one more run at Virginia, but never took to new OC Des Kitchings' pro-style offense, which went from putting up a school-record 515.8 yards per game under Anae in 2021 to averaging an anemic 344.1 yards per game under Kitchings in 2022.
Virginia scored 20 or more just twice in its nine games against FBS opponents in Elliott's first season, which ended with a 3-7 record – the program canceled its final two regular-season games after the tragic Nov. 13 shooting deaths of three football student-athletes, Lavel Davis Jr., Devin Chandler and D'Sean Perry.
Saturday's game with JMU will be the first back in Charlottesville since that awful day, and a near-capacity crowd is expected for what will obviously be an emotional day for players, coaches, families and fans.
But a big part of that crowd is expected to be wearing purple. JMU, according to some reports, could have between 15,000 and 20,000 fans in the stadium, approaching what the school can fit into its home stadium, Bridgeforth Stadium, which seats 25,000.
The JMU fans will no doubt be respectful during the myriad pregame ceremonies honoring Davis, Chandler, Perry and their families, but once the game gets under way, the gloves are going to come off, both in the stands and on the field.
There may be, probably will be, times during Saturday's game where the home ACC team will feel like they're the road team from the Sun Belt, just based on the noise.
And then in terms of the game flow, the UVA team had better be ready to keep up with a JMU offense that, unlike the guys from the ACC school that almost certainly didn't recruit the JMU guys, doesn't have problems moving the ball or scoring.
JMU averaged 37.0 points and 452.5 yards per game in 2022, against a schedule that included wins over teams you've heard of – Appalachian State (32-28 in Week 3), ODU (37-3 in Week 9) and Coastal Carolina (47-7 in Week 11).
The emotions surrounding Saturday being the first game back in Charlottesville since Nov. 13 could be a distraction early in the game, just because, come on, a lot of us in the stands and press box will have tears in our eyes, given what happened, and how a lot of folks are still in mourning.
JMU's offense, with its quick-strike capabilities, could take advantage there, and take Virginia out of this one early, and if that happens, and the Dukes not only win, as expected, but blow out the ACC team, in their stadium, on a day tinged with so much emotion, this could be it for this year's UVA football team.
Just on the field, if UVA, which is going to want to try to establish the run early against the smaller JMU defense, can't do that, it's hard to think that it's going to be able to get the run going against anybody else on the schedule.
There are other ifs – Tony Muskett, the starting quarterback, may or may not play, after leaving last week's 49-13 loss to #9 Tennessee with a left shoulder injury; if he doesn't, how does Anthony Colandrea, the true freshman backup, who had his moments in mop-up duty last week, fare with the pressure of a must-win game if his number is called?
Can the UVA defense, which looked good early in the loss to the Vols, before withering in the heat because the offense couldn't stay on the field, stop the fast-break Dukes offense, and if it can't, what does that spell for the rest of the schedule?
One last if: if this one turns ugly early, do fans come back in any kind of appreciable numbers as summer fades into fall, and if they don't, how does UVA Athletics handle another year of subpar numbers at the gate?
Lots of ifs, lots of questions, not a lot of good answers, other than, go out and pull the upset over the team in its second year in FBS.