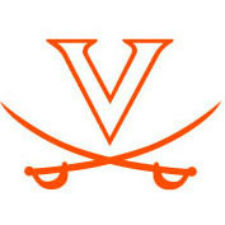 The fourth-ranked Virginia men's tennis captured its eighth consecutive ACC Championship with a 4-0 victory over No. 9 North Carolina in Sunday's ACC Tournament final at the Cary Tennis Park. It was the 10th championship in the past 11 years for the Cavaliers, who improved to 23-2 this season. The Tar Heels fell to 24-5 with the loss.
"It is always a tremendous honor to win this tournament, whether it is the first one or the tenth one," said head coach Brian Boland. "I think we are a tough team to beat when we win the doubles point and that gave us a boost again today. We had some great performances in singles too. Alex was dominant at No. 1. Ryan was great at No. 3 and Thai gave us another great performance at No. 5. Those points went pretty swiftly and the way those guys are playing gives us a lot of confidence."
The Cavaliers took an early 1-0 lead by winning a tight doubles point. The Tar Heels jumped out to a quick start, going up an early break on all three courts. At No. 2, Alex Domijan (Wesley Chapel, Fla.) and Harrison Richmond (Pawleys Island, S.C.) rebounded and posted an 8-5 win over Oystein Steiro and Nelson Vick. The North Carolina pair of Brett Clark and Brayden Schnur held their break advantage throughout the match and topped Luca Corinteli (Alexandria, Va.) and Mac Styslinger (Birmingham, Ala.) 8-5 to bring the Tar Heels even. With the opening point on the line, Mitchell Frank (Annandale, Va.) and Justin Shane (Falls Church, Va.) defeated Ronnie Schneider and Jack Murray 8-5 at No. 3 to give Virginia the lead in the match.
In singles, the Cavaliers won four first sets to take control of the match. Ryan Shane (Falls Church, Va.) was first off the courts, posting a 6-3, 6-1 win at No. 3 over Clark. Thai-Son Kwiatkowski (Charlotte, N.C.) followed with a 6-1, 6-4 victory at No. 4 over Murray.
Domijan, the ACC Tournament MVP, clinched the title for the Cavaliers with a 6-3, 6-3 win at No. 1 over Schnur. It was his 100th career dual match singles win, as he became the first Virginia player to reach that milestone.
"Winning this championship is special," said Domijan. "This year has been the strongest the ACC has been in my four years, so to win the regular season and the tournament is an accomplishment we can be proud of. This match was really competitive and we know that we have to play well every match to win this title. It isn't something we take for granted."
The eight consecutive championships are the longest streak in the team era of the ACC Tournament (since 1986). Overall, it is the longest title run since North Carolina won nine consecutive championships from 1970-78.
The win extended Virginia's ACC-record win streak to 121 straight victories over conference opponents. It was also the Cavaliers' 24th consecutive win in the ACC Tournament. This season marked the third time during Virginia's 10 ACC championships that it won all three tournament matches by a 4-0 score (2009, 2011, 2014).
The Cavaliers will learn their NCAA Tournament draw on Tuesday. The field of 64 will be unveiled at 5 p.m. on NCAA.com. First and second round play will take place May 9-11 on 16 campus sites.