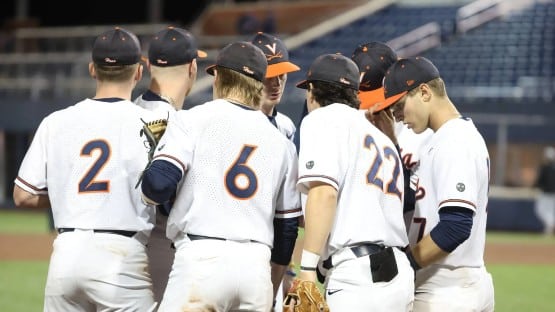 Ethan O'Donnell and Kyle Teel homered, and Nick Parker picked up his sixth win of the season, as #14 Virginia defeated Georgia Tech, 12-5, in the teams' series opener Thursday in Atlanta.
Parker (6-0, 4.50 ERA) wasn't exactly sharp, giving up three runs on five hits in five innings, but the Cavalier offense staked him to an early 6-0 lead, with a three-run homer from Teel in the first inning, and a three-run double from Casey Saucke in the second.
Saucke and O'Donnell each had three hits for Virginia (42-11, 17-11 ACC), which took over sole possession of first place in the ACC Coastal Division with the win, the team's seventh in a row, the fourth straight in ACC play.
Duke (35-17, 16-11) defeated Miami (35-18, 16-12 ACC), 5-3, on Thursday, to remain a half-game out in the Coastal race.
Virginia can clinch the division title with wins in each of their final two games of the regular season, or with a split of their upcoming games on Friday and Saturday at Georgia Tech, and one loss by Duke.
Game 2 of the UVA-Georgia Tech series is set for 6 p.m. on Friday.