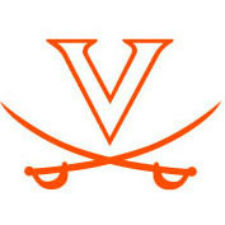 The top-ranked UVa. baseball team begins its highly-anticipated 2014 season this weekend when it competes in the Hughes Bros. Challenge in Wilmington, N.C. UNC Wilmington will host the event at Brooks Field; the Cavaliers will face Kentucky at noon Friday, VMI at noon Saturday and the host Seahawks at 2 p.m. Sunday.
Broadcast Information
Live audio broadcasts of all three contests will be available through a Cavaliers Live subscription on VirginiaSports.com. Live statistics also will be available on VirginiaSports.com.
WINA 1070-AM in Charlottesville will have a live radio broadcast of the UVa-Kentucky game. A link to live video of the Sunday game against UNC Wilmington, provided by UNCW, will be available on VirginiaSports.com. There is a subscription fee required.
Probable Starting Rotation (2013 stats)
Fri. – So. LHP Brandon Waddell (6-3, 3.96 ERA)
Sat. – So. LHP Nathan Kirby (4-1, 6.06 ERA)
Sun. – So. RHP Josh Sborz (3-0, 1.98 ERA)
Hughes Bros. Challenge
Probable Starting Pitchers (2013 stats)
Fri. – Kentucky: Jr. LHP A.J. Reed (2-8, 4.04 ERA)
Sat. – VMI: Sr. LHP Connor Bach (2-4, 2.81 ERA)
Sun. – UNC Wilmington: So. RHP Evan Phillips (2-0, 4.33 ERA)
Virginia Opens 2014 Season
Virginia is 25-6-1 in opening weekends during the previous 10 years of Brian O'Connor tenure as head coach (since 2004). UVa went 2-0 last year in its season-opening weekend at East Carolina (third game cancelled because of snow). The Cavaliers also opened the 2005 season in Wilmington, taking two of three games from the Seahawks.
Virginia Opens Year with First Preseason No. 1 Ranking
Virginia is ranked No. 1 nationally in the preseason by Baseball America and Perfect Game. This marks UVa's first preseason No. 1 ranking. It is the third time the Cavaliers have stood atop the national polls. UVa spent time as the No. 1 team in 2010 and 2011.
Five Cavaliers Earn Preaseason All-America Honors
Five Cavaliers earned preseason All-America honors from at least one media outlet – Branden Cogswell, Brandon Downes, Derek Fisher, Nick Howard and Mike Papi. It marks the most All-Americans of any team in the nation as well as the most UVa has ever had in the preseason.
Waddell Gets Opening-Day Nod on Mound
Sophomore Brandon Waddell is slated to make his second straight opening day start. Last year he was the first freshman to make the opening-day start since Dave Sammons on Feb. 26, 1986, at William and Mary. He joins Danny Hultzen (2010-11) and Jeff Kamrath (2002-03) as the lone UVa pitchers in the last 15 years to make back-to-back opening-day starts.
Noting Kentucky
Kentucky went 30-25 last season, including an 11-19 record in the SEC. The Wildcats were ranked as high as seventh nationally in early April last season before slumping down the stretch.
Two-way standout A.J. Reed is a 2013 Preseason All-American. He hit .280 last year with 13 home runs and also went 2-8 with a 4.04 ERA in 14 starts. Center fielder Austin Cousino also is a preseason All-American and was one of three outfielders nationally to earn a 2013 Rawlings Gold Glove.
UK also returns All-SEC Freshman Team honorees Kyle Barrett (OF) and Greg Fettes (C). Barrett led the team with a .349 batting average last year. UK hit .255 as a team last year and owned a 3.58 team ERA.
Scouting VMI
VMI posted a 20-35 record in 2013, including a 6-18 mark inside the Big South. The Keydets return the bulk of their 2013 team, with 24 letterwinners back including seven position starters. Catcher Matt Winn highlights the returnees; an 2013 All-Big South honoree, Winn hit .333 last year and threw out 41.2 percent of potential base stealers.
Slated to start Saturday against UVa, senior Connor Bach ranked eighth in the Big South in ERA last year. VMI hit .279 last year and had a 4.51 team ERA.
A Look at UNC Wilmington
UNC Wilmington is the preseason CAA favorite after recording a 38-23 mark last year, with a league-best 18-8 CAA mark. The Seahawks competed in the NCAA Charlottesville Regional before bowing out against Elon.
Pitching figures to be a forte for UNCW, as 12 pitchers return. They combined to pitch nearly 90 percent of the Seahawks' innings, including CAA Pitcher of the Year Matt Batts and All-CAA picks Jordan Ramsey and Kelly Secrest.
In the field, five position starters return including all-conference honorees Ryan LaGrange, Luke Dunlap, Terence Connelly and Corey Dick. LaGrange hit .370 last year, second on the team. UNCW batted .292 as a team last year and posted a 3.95 team ERA.
Series History vs. Tournament Foes
Virginia and Kentucky are meeting for just the second time; UVa scored a 12-3 win over UK on April 18, 1906.
The Cavaliers and VMI have played 131 times previously, with UVa owning a 102-29 series edge. UVa beat the Keydets 8-6 last year at Davenport Field and will see them again on Feb. 25 in Charlottesville.
Virginia and UNCW have met six times, with the Cavaliers owning a 5-1 series lead. They last met in 2005, with UVa taking two of three in Wilmington.
Up Next
The Cavaliers start their 35-game home schedule on Tuesday (Feb. 18) when they entertain William and Mary. Game time is 3 p.m. at Davenport Field.