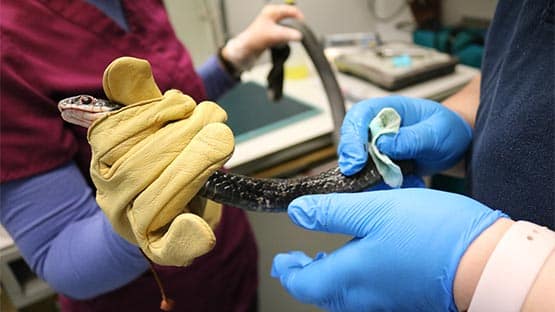 As the world celebrates snakes, well, maybe not all of us, on World Snake Day on Sunday, the Wildlife Center of Virginia aims to remind people that most snakes are underappreciated and misunderstood.
In Virginia, most snake species are naturally reclusive and avoid contact with humans whenever possible.
During the past 12 months, approximately 50 snakes have been admitted to the Wildlife Center of Virginia.
1 Black Kingsnake
8 Common Gartersnakes
2 Cornsnakes
1 Dekay's Brownsnake
1 Eastern Hog-nosed Snake
3 Eastern Kingsnakes
1 Eastern Milksnake
28 Eastern Ratsnakes
1 Northern Watersnake
3 Ring-necked Snakes
1 Copperhead
Based on the information provided by eye-witness rescuers and volunteer transporters, the three most common reasons these snakes were admitted to the Wildlife Center included:
Young or juvenile snakes failing to thrive on their own,
Vehicle collisions, and
Attacks from outdoor cats, dogs or other animals
The Wildlife Center of Virginia encourages families to use World Snake Day as an opportunity to learn more about native snakes and how to protect them.
For more information, visit www.wildlifecenter.org