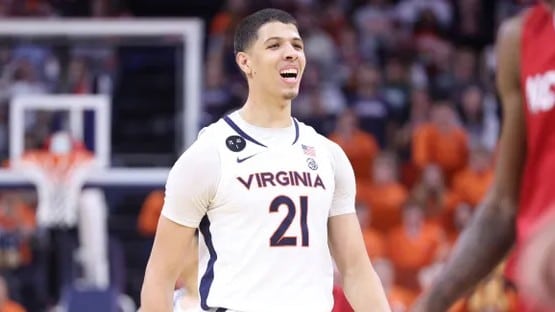 Kadin Shedrick, welcome back
Kadin Shedrick got a nice ovation from the home crowd when he subbed in at the 16:59 mark of the first half Tuesday night, after being a healthy scratch in Virginia's loss at Virginia Tech over the weekend.
Shedrick was a difference-maker in the 63-50 win over #22 NC State, scoring 10 points and pulling down six rebounds in 26 minutes off the bench.
Tony Bennett had started the 6'11" redshirt junior in 14 of the first 15 games of the season, before going to a small-ball lineup with 6'8" grad transfer Ben Vander Plas at the five spot for the Jan. 14 road game at Florida State, and sticking with BVP as the starter the past seven games.
Shedrick, for his part in this, went from starter and stat-box stuffer to getting just 38 minutes total over the past six, heading into Tuesday night.
He made his presence felt immediately, putting up five points and snaring four boards in 13 first-half minutes.
With Vander Plas having another off-night – BVP had four points and three rebounds in 19 minutes – Shedrick's return to his earlier-season form was a necessity Tuesday night.
The double-digit effort was his first since the 73-66 win over Syracuse a month ago, on Jan. 7, in which he had 11 points and six rebounds.
Another Vander Minus night
Vander Plas, as mentioned, struggled again Tuesday night, continuing a recent trend that, with Shedrick playing well in the win, may flip the starting lineup back to where it was last month.
Vander Plas, over his last five games, is averaging 4.2 points and 5.0 rebounds in 25.4 minutes per game, on 36.0 percent shooting.
That's just not going to cut it from your starting five.
That was next-level defense
NC State's previous season-low in points was 60, in a 68-60 loss to Pitt on Dec. 2, an eternity ago.
The Pack had scored in the 60s two other times this season – in a 78-64 loss at Clemson on Dec. 30, and an 80-69 loss at UNC on Jan. 21.
That puts in perspective: 50.
State shot 33.3 percent from the floor, was 8-of-27 (29.6 percent) from three.
Terquavion Smith, the ACC's leading scorer coming in, had 19 points, but needed 20 shots (shooting 7-of-20) to get them.
The team's second-leading scorer, Jarkel Joiner, averaging 16.2 points per game coming in, had five, on 2-of-14 shooting.
Four of the nine NC State players who got into the game Tuesday night scored.
The bench put up a cumulative goose egg: nothing, nada, 0-of-5 from the field in 38 minutes.
State had averaged 16.0 transition points per game coming into Tuesday night.
The total in this one: two.
The points per possession number for the Pack was .847.
All of this from a Virginia defense that had been giving up a very un-Virginia like 1.031 points per possession over its past five.
What we saw Tuesday night, that's more like it.
Don't tug on Jayden Gardner's cape
I'm serious, Jayden, dude, I'm sorry.
After the Wake Forest game, a 76-67 UVA win on Jan. 21, in which Gardner, the team's leading scorer and rebounder last season, had five points and two rebounds in 20 minutes, I wrote about how it looked to be inevitable that freshman Ryan Dunn would be the starter at the four spot at some point soon.
To that point, Gardner had been averaging a very modest 6.2 points and 2.7 rebounds over the most recent six-game stretch, and was shooting just 40.5 percent from the field over that stretch, as Dunn was clearly gaining on him, outplaying him in the wins over Florida State, Virginia Tech and Wake, a stretch in which the freshman averaged 23.7 minutes per game off the bench.
Credit to Gardner: he stepped up his play, big-time.
Over his last four, basically, since I said it appeared his time as a starter seemed to be coming to an end, Gardner has averaged 18.3 points and 7.3 rebounds per game, and he's shooting 53.8 percent over that stretch.
Dunn, meanwhile, got just two first-half minutes Tuesday night, and has been on the floor for a total of 36 minutes over the last four, as Gardner has been taking back his minutes at the four spot.
That's how competition makes everybody better, so, credit also to Dunn here, for pushing Gardner, who then worked himself back to where he was last year, and actually, better than where he was last year.
Reece Beekman is too good
Yeah, he won't be back next year; the NBA is going to want to start paying him, and paying him well, for his services.
Beeks, in Tuesday's win, had 15 points, four assists, three rebounds, three steals, was 6-of-11 from the floor – 6-of-9 on shots at the rim, layups and dunks, two of the latter, both in traffic.
He was also the key guy hounding Terquavion Smith and Jarkel Joiner into their cumulative 9-of-34 shooting night.
Ho, hum.
The defense has always been next-level. What impresses is his transformation on the offensive end this season.
A career 30.4 percent shooter from three coming into the season, he's improved to 43.1 percent this year.
His free-throw shooting is up from 75.9 percent coming into the year to 82.3 percent in 2022-2023, and he's getting to the line 2.9 times per game, more than double his career rate coming in.
Beekman needed to improve on the offensive end to become a finished product, and he's done what he needed to do there.