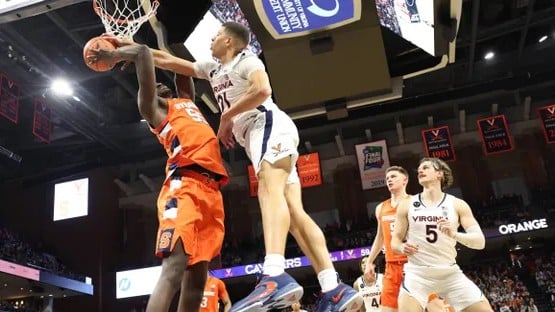 Virginia struggled to find answers with the post D
Jesse Edwards had a quiet night in Virginia's 73-66 win over Syracuse back on Jan. 7 – four points on 2-of-5 shooting.
He did have 10 rebounds, but on the offensive end, he was an afterthought, if even that.
'Cuse started running its offense through Edwards late in the first half Monday night in the Dome, and UVA coach Tony Bennett struggled to figure out how to stop him.
Edwards scored seven points in a quick 1:53 stretch at the end of the first half to help the Orange narrow an early eight-point deficit to get within one at halftime.
His second-half numbers were deceptively pedestrian – seven points on 2-of-3 shooting from the floor, 3-of-5 at the line, two assists.
It seemed like Jim Boeheim had the ball going to Edwards in the post on most possessions, and Edwards would take advantage when he was played straight up, and got the ball moving to open shooters when he got the double-team.
His numbers for the night: 14 points on 5-of-8 shooting from the floor, 4-of-6 from the line, seven rebounds, three assists, two blocks and two steals in 39 minutes.
The other number for Edwards was five fouls, and he picked up his fifth with exactly a minute left, on a charging foul, with Jayden Gardner taking the bump on the charge.
Bennett largely stuck with Ben Vander Plas at the five, and BVP had a stat-stuffing night – seven points on 3-of-7 shooting, seven rebounds and six assists, the dishes coming when he worked his way into the middle of the zone to find cutters on the baseline and open shooters on the perimeter.
Kadin Shedrick got eight minutes off the bench, and scored on two nice first-half lob passes from Kihei Clark, who also found freshman Ryan Dunn on a lob in the second half.
Those three lob dunks were the three made buckets by Shed and Dunn, who combined for three rebounds in 19 minutes off the bench.
Shedrick, in particular, looked overmatched by Edwards one-on-one in the post, and he had the team's worst plus/minus – at -9.
Second straight big night from Gardner
I had Jayden Gardner, like, four or five days ago, on the verge of being benched, in favor of Dunn, who had been stealing minutes of late at the four from last season's leading scorer and rebounder.
Gardner had been averaging 6.2 points and 2.7 rebounds per game over a six-game stretch leading into me predicting his benching, that stretch culminating with his somnolent five points and two rebounds in the win at Wake Forest on Jan. 21.
In his last two: he had 18 points on 8-of-12 shooting and six rebounds in the win over Boston College on Saturday, and then 17 points on 6-of-11 shooting and eight rebounds in the win at Syracuse on Monday.
He also had the team-best plus/minus of the night: at +11.
How about that little guy who wears the 0?
OK, so, Reece Beekman is the projected late first-round draft pick, but that said, the team is running through the now-5'10" (he's somehow grown an inch since last year) Kihei Clark at the moment.
Clark had 12 points and 10 assists in the win at Syracuse on Monday, while Beekman had a zzzzz … seven points and two assists.
In the ongoing seven-game winning streak, Clark is averaging 10.3 points and 6.3 assists per game.
Now that I do the accounting, though, Beekman is actually averaging 10.1 points and 5.6 assists in the last seven, so, right there with him.
It's nice having two guys putting up those numbers.
Silent assassin
Speaking of quiet, the word I keep going back to in tonight's column, freshman Isaac McKneely only shot the ball four times Monday night.
Good news, he made two of them, both threes.
In the seven-game winning streak, he's now 16-of-29 (55.2 percent) from three-point range.
In the streak, he's averaging 8.8 points per game on 5.7 shots per game, which is rather efficient for the young man.
Who says Virginia is slow?
The final box tells us that Virginia had a 13-7 edge in fast-break points.
Syracuse came into the game ranked middle of the pack (151st, of 363 teams) in D1 in fast-break points per game, with 9.9 fast-break points per game.
Virginia, you may be surprised to learn, isn't dead-last, or anywhere near it – actually ranking 281st, at 7.3 fast-break points per game.
So there.