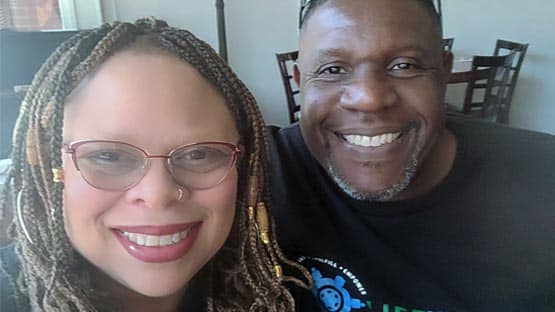 The River City Bread Basket is one month from opening its doors, and volunteers with the LIFEworks Project are busy getting the North Winchester Avenue building ready for the public.
Adrienne Young, the executive director, and her husband, A.J. Young Jr., have been active in the food insecurity arena in Waynesboro and surrounding areas for more than two years now, and the client-choice food pantry is the next step in what is the organization's evolution in giving those who need it a hand up.
"From the very beginning, this is something that we always envisioned," said A.J. Young. "You know, it was important for us to get started, so we started with a mobile operation. But we've quickly found out we've grown extremely fast, and that we can serve more people with a physical location."
While a number of people do get food assistance because they qualify based on their income, there are many people who may not meet the qualifications for services and are still struggling.
"We know that there are people on the fringes," said Adrienne Young. "There's over 3,700 people in the City of Waynesboro that live at or below the poverty level. And there are resources that we know about for those people, whether they use them or not.
"But we also know that there are people just above that number who may not qualify for services that are struggling. And they need a little respite as well."
The River City Bread Basket is located in an area known as a food desert, where no grocery store is within walking distance of its residents. The goal is to serve everyone who enters the doors and those in Waynesboro's East End who are in walking distance of the pantry.
"Thirty percent of food at the retail level goes to animal feed, land, landfill or is thrown in the trash compost," Adrienne Young said. "We are actually rescuing good quality food that might be tossed aside otherwise, and we're putting it on the plates of families that need it."
The River City Bread Basket is made possible by support from the Blue Ridge Area Food Bank, Ntelos/Lumos, the City of Waynesboro, through a Community Development Block Grant, the Community Foundation of the Blue Ridge, Christ Tabernacle Church of God and Christ, Feeding America, Walmart and Food Lion.
The food pantry isn't meant to be a competitor to food pantries and food services provided by other churches and organizations. It's meant to complement what they offer. One of the biggest differences with the River City Bread Basket is the organization plans to have longer hours that will accommodate people who do work and can't always make it to pantries that have limited hours on certain days. Shoppers aren't given a box that is the same as what everyone else gets, either; they will get a basket to select foods appropriate for their family.
"If for some reason a family is referred to you (an area church or pantry), and you serve on a Tuesday, and the family calls you after hours, we would like to be able to serve them," Adrienne Young said.
She hopes that churches and other organizations will point those in need to the Bread Basket.
"There's enough work for all of us," Adrienne Young said. "And I think we have certainly referred people to other organizations in the community when the lift has been a little bit heavy or a little bit more than what we can do. And we hope that we will be included in what other organizations are doing, because we are really all trying to do the same thing, and that's help people thrive. We're happy to be a part of that."
"We're able to offer more liberal hours, where folks can come in, and be able to get the things that they want, and not get a box where, you know, maybe everybody doesn't eat pinto beans or doesn't eat Swiss chard," said A.J. Young.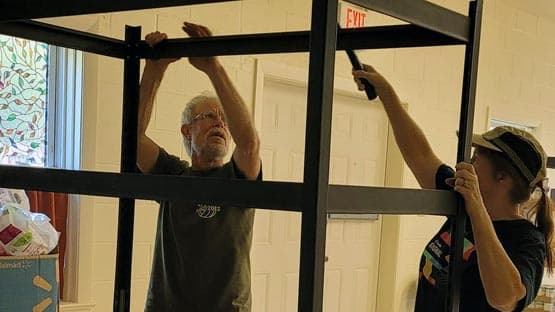 People who stop in at The River City Bread Basket will get a shopping basket – where they can select food that is culturally appropriate for their family and avoid duplicating food staples they may already have in their cupboards.
They are hopeful that beyond their existing community partners, other organizations like a women's group, civic club, doctor or dentist might sponsor a shelf and provide necessities for those in need each month. For example, a dentist office might provide 30 toothbrushes and toothpaste each month. Or a women's group might provide women's hygiene products on a regular basis. They have a plan to recognize donations of this nature on each shelf.
"We believe this is a community endeavor," said Adrienne Young. "It's not just the LIFEworks Project. The project includes everyone in the community that would like to be a part of it."
They plan for the building to offer more than just food. By design, they would like to see it will become a community hub for other services too.
"Food is one thing, but there are many multiple and interrelated issues that create food insecurity," said Adrienne Young.
The space will be a place where people are known by name, where they could host lunch from time to time or offer waffles for breakfast. Or even offer something as simple as a cup of coffee for people while they shop.
The goal is to build relationships and to help people out of the need for supports that they have in the community.
As the grand opening date nears, the couple is working with contractors and volunteers to get the building ready by painting, stripping floors, installing coolers, internet, etc.
"If you've been saying, I want to do something. I just don't know what to do. I'm telling you, this is what you can do, "Adrienne Young said. "This is something you can do, and it may seem small, but when we all get together, many hands make light work."
The couple is thankful for the community believing in them, and more importantly, believing in the mission to help the homeless and families who are struggling to make ends meet.
"We started this a little over two years ago," said A.J. Young. "I jokingly said to my wife, 'do you want to start a nonprofit?' She said, 'are you serious?' … It's been a little over two years now. We have been extremely fortunate to do what we're doing, but it took people believing in us."
It's not just their efforts, but the mission that people believe in, Adrienne Young added.
"Everyone should have enough to eat. If everybody does just a little bit, there is no reason for people to be hungry in our area. If everybody just does a little and leans into this mission, we can do a lot of work together."
To donate, volunteer or for more information on the LIFEworks Project, visit the website, the Facebook page or email [email protected]
Grand opening event
The River City Bread Basket will host a grand opening and ribbon cutting on Oct. 7 starting at 9 a.m. at its 505 N. Winchester Ave. location. The former youth center features an office, working kitchen, two bathrooms and the pantry.
The pantry will be open to shoppers on Oct. 7 from 10 a.m. to 2 p.m.
The public is invited.
Related stories
Waynesboro: Rising temperatures don't meet 'criteria for a cooling center'
Citizens urge Waynesboro to take the lead on homelessness, affordable housing
Ending homelessness: What can Waynesboro do to prevent the next Tent City?
'Homeless and hated': LIFEworks Project offers hand, dignity to unsheltered population
Food Farmacy nutrition program kicks off in Waynesboro July 19