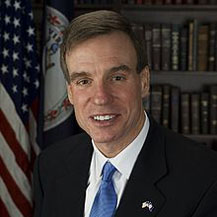 U.S. Sen. Mark R. Warner (D-VA) met with the President's nominee to lead the Veterans Affairs Department today and emphasized two Virginia-based initiatives that would help transform operations at the embattled agency.
Sen. Warner solicited support from Robert McDonald, a former Procter & Gamble corporate executive and Army veteran, for the innovative College of William & Mary's Puller Veterans Clinic, which dramatically speeds-up the V-A's processing time for handling disability claims. Sen. Warner also urged Sec'y.-designate McDonald to embrace a pro bono offer from several leading technology firms in Northern Virginia to assess and recommend solutions to fix the V-A's troubled patient scheduling system.
"There is a lot of work to do to ensure that we can provide our veterans with the medical services and payments they deserve, and Mr. McDonald's military service and private sector management experience is exactly what we need to transform the V-A. In 2010, after shocking reports surfaced about widespread mismanagement at the Army's Arlington National Cemetery, Virginia's I-T experts provided free assistance to assess data management challenges. I urge Mr. McDonald to embrace similar pro bono I-T assistance to fix the V-A's patient scheduling system, " Sen. Warner said after today's meeting with McDonald. "While I am proud we won the V-A's endorsement to expand William & Mary's Puller Clinic approach to help veterans with the more difficult claims, I look forward to working with Mr. McDonald and the V-A to expand this pro bono program nationwide."
"Those employees that have violated the trust of the department and of veterans must be, and will be, held accountable,"McDonald testified during his Senate confirmation hearing on Tuesday. "I desperately want this job because I think I can make a difference. If not me, then who."
Sen. Warner said he was particularly impressed with McDonald's pledge to hold V-A employees accountable: McDonald promised that within the first 90 days of his tenure, he would deliver the needed reforms military veterans deserve.  Virginia is home to more than 800,000 veterans, and ensuring we keep our commitments to veterans has been a consistent hallmark throughout Sen. Warner's public service:
·      As Virginia Governor (2002-6), Sen. Warner worked with Virginia's leading veterans service organizations to streamline three separate state veterans' programs into one, and he appointed a Cabinet-level official to make sure Virginia was providing efficient, timely services to its veterans.
·      As Senator, the Warner staff works hard every day to assist individual veterans who are having difficulty accessing V-A services and benefits. Since 2009, our staff has helped approximately 3,000 Virginia veterans access a combined $3 million in overdue benefits.
·      In 2011, Sen. Warner successfully pushed the V-A to remove barriers which had blocked female veterans returning from honorable service in Iraq and Afghanistan from accessing V-A treatment and services for PTSD and other combat-related health issues.
·      In 2010, after shocking reports surfaced about widespread mismanagement at the Army's Arlington National Cemetery including the disgraceful mishandling of remains and burial sites, Sen. Warner organized a 'SWAT team' of professionals from Virginia's leading I-T firms to help the Army assess its data management challenges. This private-sector team from Virginia designed and helped implement a 21st century digital plan to fix the back office problems at Arlington – at no cost to the taxpayers.
McDonald's nomination was endorsed by the Senate Veterans Affairs Committee on Wednesday. It is not clear when the full Senate will vote on his confirmation.