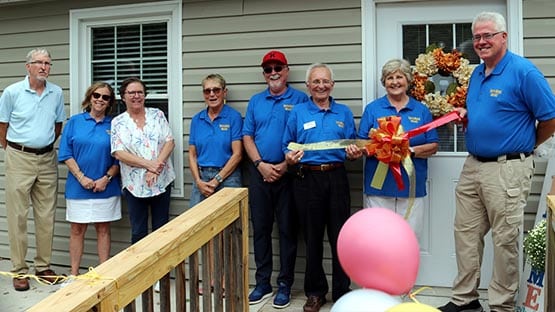 Waynesboro Area Refuge Ministry celebrated the opening of a new administrative building Saturday at their campus on Fairfax Avenue.
WARM and the Central Shenandoah Valley Office on Youth and members of the community were on hand for the open house and block party that also recognized the expansion of existing programs.
"At the time this building became available to us, we were desperate for office space," said Sharon Wood, WARM Board Treasurer.
The building was leased from The Arc of Augusta in March and there are hopes that WARM will be able to buy the building in the next couple of years.
Following renovations, the administrative building has offices for staff, meeting spaces and cubicles that can be used by staff and volunteers.
"Now that we can move our main office out of the WARM house," Wood said, "we've been able to add two rooms to the WARM House: a multi-purpose library room and another room for a resident with children."
The Ruth Van Cleve Anderson WARM House is a transitional home for unhoused mothers with children providing a safe space and programming to equip and empower residents.
The Central Shenandoah Valley Office on Youth helped organize the event which included free food, door prizes and activities for children provided by local organizations.
"The Office on Youth works to increase collaboration between organizations and connect families to resources," said Sam Weed, on behalf of the Office on Youth. "We're here today to celebrate what WARM does in the community and how they extended their program during COVID."
WARM plans to double the cold weather shelter this winter, offering shelter in two locations instead of one.
"We are so excited to expand our operations to serve more of our unsheltered neighbors," said Brian Edwards, WARM Board Chair and Acting Executive Director.
Changes for WARM
WARM plans to double the cold weather shelter this winter, offering shelter in two locations instead of one.
WARM has petitioned the City of Waynesboro to increase occupancy at the WARM House
WARM anticipates the opening of their new administrative building will result in enhanced and expanded programs
WARM hopes to procure another van and trailer to facilitate the expanded cold weather shelter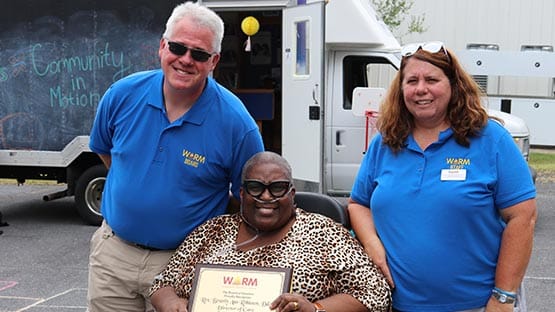 WARM also recognized one of its staff members, the Rev. Dr. Beverly Robinson, Director of Care. Robinson was recognized with a plaque for five years with WARM. Robinson, who was once homeless herself, has worked with the local unhoused population for many decades.
"This is my heart," Robinson said. "I'll do this work until my last breath."
Founded in 2011, WARM organizes a cold weather shelter as well as transitional housing and outreach programs. WARM currently provides winter shelter to homeless adults at sites in Waynesboro and Augusta County, Virginia and temporary housing and supportive services to homeless mothers and their children in Waynesboro.
Related stories
Region's cold-weather shelter to double capacity; offer respite to 'feel like a human being'
Waynesboro: Rising temperatures don't meet 'criteria for a cooling center'
WARM concludes Cold Weather Shelter season for homeless in Waynesboro
Despite options, most Tent City residents 'pitched their tents elsewhere'
Citizens urge Waynesboro to take the lead on homelessness, affordable housing
Tent City evictions: Councilman thinks the city should have answers for housing problem
City Council eases restrictions on cold weather shelters in Waynesboro
'Incredibly difficult': Homeless shelter turns people away due to staffing, regulations
Waynesboro: Homeless agency needs $40k to get through winter months
WARM urges area churches to participate in cold weather shelter
COVID-19 funding blessing to homeless community, but emergency shelters closing soon