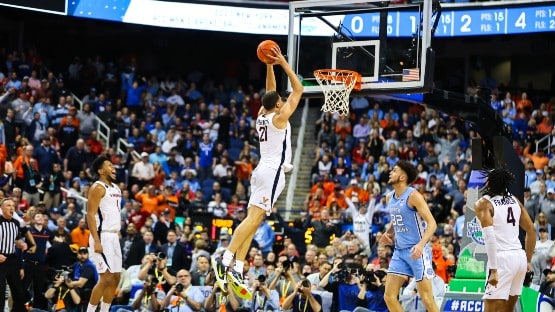 North Carolina cut a 10-point deficit to two with 1:59 to go. Virginia closed the Heels' NCAA Tournament hopes with defense and free throws.
The second-seeded Cavaliers forced six straight UNC misses, and went 9-of-10 at the line, putting away the preseason #1, 68-59, in an ACC Tournament quarterfinal on Thursday.
And by putting away, this is it as far as the hopes for Carolina (20-13) to get an invite to the Big Dance.
The UVA win avenges a 71-63 loss in Chapel Hill two weeks ago that had kept UNC's slim hopes alive, and was also an important turning point for the 'Hoos.
Coach Tony Bennett talked after that loss about liking the effort that he saw from his team in the second half of the loss in the Dean Dome, and that effort seems to have carried over since.
Virginia (24-6) led by as many as eight in the first half, but UNC closed to within one, at 25-24, at the half.
The Cavaliers never trailed in the second half, and got the lead to 10, at 51-41, on a Kihei Clark jumper with 9:10 to go.
As can happen, the Virginia offense hit a lull. UVA missed seven of its eight shots from the field over the next six minutes as Carolina crept closer.
An RJ Davis and-one with 1:59 on the clock got Carolina to within two, at 57-55.
It was here that free-throw shooting, which has been problematic for Virginia the past four weeks, took center stage.
Clark hit both ends of a one-and-one to get the lead back to four, and then after a Puff Johnson missed three, Jayden Gardner, who had 17 points and 10 boards on the night, made both ends of another one-and-one, to get the lead to six.
Caleb Love, who had 11 points for UNC on 3-of-15 shooting from the floor, missed a wild three with 1:13 to go.
Gardner went 1-of-2 at the line to get the lead to seven.
Another Carolina miss, this one by RJ Davis, who had carried the Heels all night, with a game-high 24 points on 8-of-14 shooting, sent Clark back to the line, and the fifth-year point guard sank both ends to get the lead to 64-55 with 51 seconds left.
Kadin Shedrick's fifth block of the night, on a Davis layup attempt, led to a runout that Shedrick finished with a vicious dunk with 27 seconds left.
Shedrick, who hadn't gotten in the past two Virginia games, got 19 minutes off the bench with the starting center, Ben Vander Plas, now out for the season with a broken right hand that he sustained in practice on Wednesday.
Shedrick had four points and five blocked shots.
Reece Beekman had 15 points and five assists, and Armaan Franklin had 14 points for the 'Hoos, who shot 49.0 percent from the floor, 58.3 percent in the second half.
Armando Bacot, UNC's first-team All-ACC center, had just four points and three rebounds in 21 minutes, as he tried to play through an ankle injury he sustained in Carolina's 85-61 win over Boston College on Wednesday.
Box score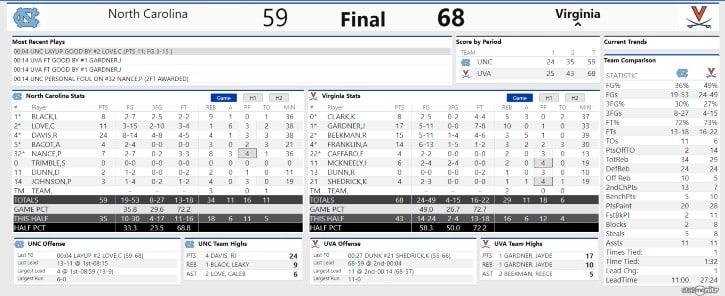 Highlights