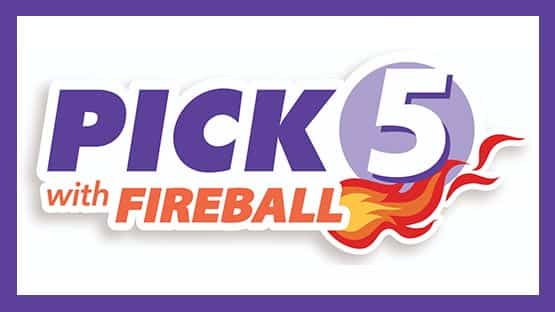 The Virginia Lottery is redefining what it means when you hear the word fireball. No, they don't mean the cinnamon whiskey most people think of when you hear the word. Instead, it's a new game unveiled today, Pick 5 with FIREBALL, similar to the popular Pick 3 and Pick 4 games with FIREBALL.
"The launch of Pick 5 with FIREBALL marks another milestone for the Virginia Lottery as it's the first game we are launching simultaneously at retail and online," said Lottery Executive Director Kelly T. Gee. "Given the success and product loyalty we've seen in Pick 3 and Pick 4 over many years, we believe our customers will welcome and enjoy this exciting new game, along with the option to play wherever they choose to engage with us."
According to the Virginia Lottery, players select five numbers from 0 to 9 and try to match their numbers to the five winning numbers drawn by the Virginia Lottery.
In addition to the first five digits drawn, a single FIREBALL number is also drawn from 10 balls numbered 0 to 9.
Players can purchase the FIREBALL option when they buy a ticket. The FIREBALL number replaces each Lottery-drawn number to create five new winning number combinations.
If a player matches the selected numbers to any of the new winning combinations, the player wins a FIREBALL prize.
Drawings will be twice daily, seven days a week at 1:59 p.m. and 11 p.m.
Tickets cost $0.50 or $1.00, and players may win up to $50,000 depending on the bet type selected.
Tickets to Pick 5 with FIREBALL can be bought at Virginia Lottery retailers across Virginia or via the Virginia Lottery phone app or website.
Profits generated by the new Pick 5 with FIREBALL benefit K-12 education in Virginia.
For more information on Pick 5 with FIREBALL, including instructions and rules, visit www.valottery.com/pick5.