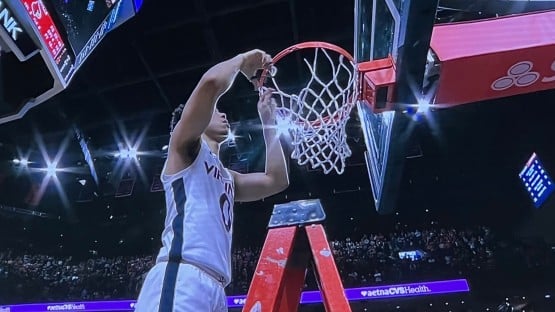 Kihei Clark had six points and six assists in his final game at JPJ, walk-on Chase Coleman drained a three in the final minute, and the day ended with Virginia cutting down the nets to celebrate another ACC regular-season championship.
Virginia, maybe, has gotten out of the doldrums of February.
The 12th-ranked Cavaliers took care of business on Saturday against Louisville, which played UVA to a three-point loss in the Yum Center last month, with Virginia winning today, 75-60.
The win clinches the #2 seed in next week's ACC Tournament for the 'Hoos (23-6, 15-5 ACC), who have now won at least a share of six of the last 10 ACC regular-season titles, dating back to the 2013-2014 season.
This one was never really in doubt. Virginia led by 16 at halftime, and the margin never got closer than 13 the rest of the way, as Tony Bennett subbed liberally throughout the second half, getting minutes and extra reps for bigs Ryan Dunn and Francisco Caffaro, both of whom had productive games – Dunn going for nine points and three rebounds in 19 minutes, and Caffaro scoring six points in 10 minutes.
Clark hit the first bucket of the game, a three-pointer from the left corner, 19 seconds in, setting the tone for Virginia, which shot a blistering 58.0 percent for the game, and 66.7 percent in the second half.
Virginia had a 65-13 record at JPJ in Clark's five years at Virginia, including a 15-1 mark this season.
The program honored seniors Caffaro, Coleman, Ben Vander Plas, Jayden Gardner and Armaan Franklin before the game, with Gardner, who had 16 points on 8-of-12 shooting, in tears as he held a framed jersey aloft for the fans.
Franklin also had 16 points for Virginia, on 5-of-8 shooting from the floor, to go along with a season-high five assists.
Vander Plas had seven points and four rebounds in 23 minutes, and Reece Beekman had five points and 11 assists, without a turnover, in 35 minutes.
Mike James had 24 points for Louisville (4-27, 2-18 ACC).
Box score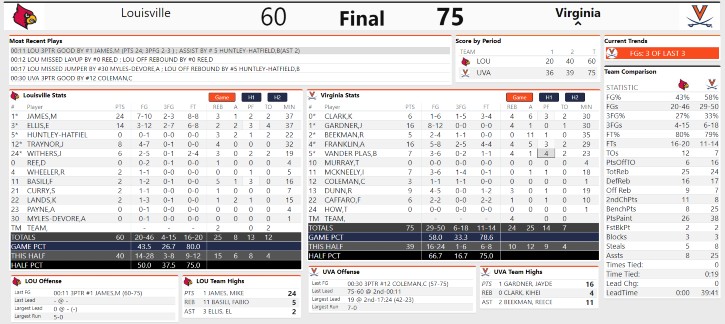 Highlights
Link to video on YouTube.