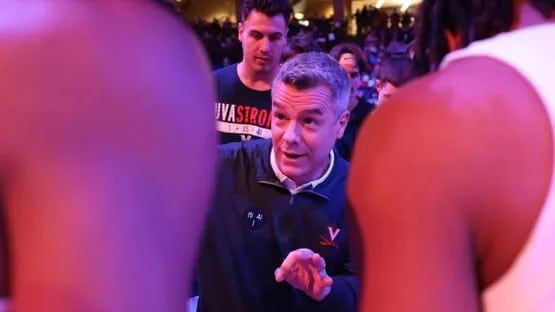 Syracuse shot 64 percent in the first half, had 26 points in the paint, and no, Tony Bennett was not pleased.
"I think the first half, none of us were pleased with our defensive focus, tenacity. The way we have to play, when you give 26 points in the paint, that's not going to get it done," Bennett told reporters after the 67-62 win on Monday night.
Eventually, the defense was there. Syracuse, after the highly efficient first half, shot 34.8 percent in the second half, and was just 3-of-12 from the field in the final 12 minutes.
The biggest challenge was trying to check 'Cuse center Jesse Edwards, who had just four points in Virginia's 73-66 win over the Orange on Jan. 7, but was the centerpiece of Jim Boeheim's strategy on offense last night.
Edwards ended up with 14 points on 5-of-8 shooting, and seemed to touch the ball every time down the floor in the second half.
Bennett struggled to figure out a way to neutralize Edwards, who ate up Kadin Shedrick and Ben Vander Plas in one-on-ones, and was adept at getting the ball out of double-teams to open shooters.
The focus was on "just trying to, you know, limit his touches, and then when he got a catch, you know, be there quick and try to double him and just try to cover the weak side, knowing that you're leaving some really good shooters open, but trust our recovery, because you can't take away everything, but you've got to take away something," Bennett said.
"I thought in the first half, as they say, we were neither fish nor fowl," Bennett said. "Our players have never heard that. When I say that, they're like, what are you talking about? But we were neither, like, we weren't taking the lane away, and we weren't bothering shots, they're beating us. In the second half, we said, let's take something away first, establish that, and first it was, alright, not letting him get the ball, but if he does, let's be quick to try to trap and scramble out of it."
It helped that Syracuse's shooters weren't knocking down the open shots. 'Cuse was just 3-of-15 on the night from three.
"I thought we were disciplined and pretty quick in the second half to their shooters, and they missed some wide-open ones. Let me say that, you know, it's that was just, sometimes fortunate that guys get open ones and miss," Bennett said.
Virginia is done with Syracuse, at least in the regular season, but the Cavaliers do face teams with good bigs like North Carolina and Duke, and then presumably will have someone in March in the NCAA Tournament that can do what Edwards was able to do last night.
All you can do is learn what you need to learn and hope to get better as the season goes on.t
"I thought they rallied and were better in the second half," Bennett said. "You know, you had guys step up, make a big shot, a hustle play here and there and, and that's what it takes. This is just how it is, you know, you're getting everybody's best shot. It's the second time through. Syracuse has, obviously, Coach Boeheim does such a great job with them, and these guys came off of a tough loss at Tech, and so they were ready. And you know, Edwards is one of the more improved players in our league. And so, we just, we found a way. But there's more there, and I'll keep challenging our guys to give more."