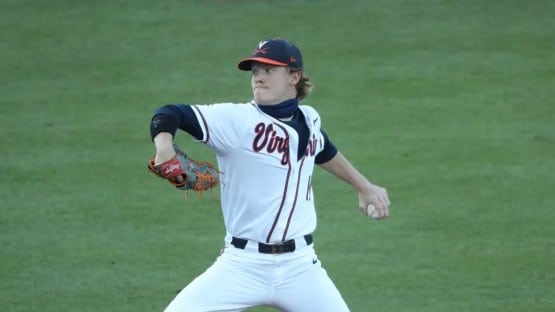 UVA baseball alum Andrew Abbott, a 2021 second-round MLB Draft pick, was impressive in his big-league debut for the Cincinnati Reds on Monday, taking a no-hitter into the fifth inning of a 2-0 win over the Milwaukee Brewers.
Abbott, who had a 17-13 record with a 3.06 ERA in his four seasons at Virginia, gave up one hit in six scoreless innings in his debut, striking out six and walking four.
Those numbers represent a bit of history. According to MLB.com, Abbott is the only left-hander in the Modern Era to put up six-plus shutout innings with six-plus strikeouts and no more than one hit allowed in his MLB debut.
"I know I'm going to have a mountain of things to go through on my phone after this, but it's been a dream come true," said Abbott, the No. 6 prospect in the Reds organization who ranks as the No. 95 overall prospect by MLB Pipeline.
Abbott had to work his way out of a rough first inning – he needed 28 pitches to get out of the inning, including working out a 10-pitch, two-out walk to Brewers catcher William Contreras – before striking out Christian Yelich with a 94-mph fastball to end the frame.
It then took him 25 pitches to get out of the second inning, which opened with back-to-back walks to Brian Anderson and Luis Arias, before he ended the second with strikeouts of Joey Wiemer and Blake Perkins.
"I think, early on, it took him an inning or two to settle in," Reds manager David Bell said. "If you're human, that's very normal, so I was glad to actually see that, and his ability to lock it back in was really impressive."
The strikeouts of Wiemer and Perkins started a stretch in which Abbott retired 10 batters in a row before giving up his first and only hit of the game, a one-out double to Wiemer in the fifth.
After he got out of that inning with no damage, Bell left Abbott in to start the sixth with his pitch count at 84 going into the inning. Abbott issued a leadoff walk to second baseman Andruw Monasterio, then struck out Contreras and Yelich, who fouled off three straight 0-2 pitches before going down swinging on a 93-mph four-seamer.
"The Yelich fastball was my favorite pitch. He had to throw it right there," Reds catcher Luke Maile said. "It was a super-dangerous hitter who had seen a lot of pitches and was fouling them off the right way. He wasn't rolling them over. He was seeing them pretty good, short and quick. We had a bit of space on the outer half. At the same time, there's not a lot of margin for error when you do that after they've seen so many of them, especially a hitter like him. He just drilled the glove. It was the one pitch that stuck out where you could have stuck the mitt out on a fungo and he would have hit it. It was an impressive pitch."
Abbott then induced a flyball out from Anderson with his 105th pitch of the night, a 1-2 92-mph four-seamer, to get out of the sixth.
"He was up over 100 pitches, I think the most he's thrown is 97, 98 this year, but really big out right there," Bell said. "Of course, I want his night to end well, and we're trying to win the game, but he was able to get that out and do both."
"When I was a reliever, I know what the feeling is when you kind of know when the coach is going to make the move," said Abbott, who pitched out of the bullpen his first three seasons at Virginia, before Brian O'Connor moved him to the starting rotation in 2021.
"I wanted to leave under my own power as much as possible. I'm just (grateful) that they had enough trust in me to just ride it out," Abbott said.
Abbott, who is 4-0 with a 2.50 ERA in 10 starts in Double-A and Triple-A this season, was called up to the big club with the thinking by Bell and the front office being that they would give him a chance to earn a spot at the bottom of the starting rotation.
It's one start, but the early thinking has to be positive in that respect.
"He's been impressive since he's been in our organization, and now he's getting an opportunity to pitch here," Bell said. "We wouldn't have brought him up if we didn't think he had a real shot to stay with us and keep getting opportunities, and tonight was a great start."
Abbott knows he has work to do, and as good as his final statline was, his focus was on the four walks.
"I personally don't like the four walks," Abbott said. "It's a tough stat. The game overall was good, but the four walks, I've got to be better with that."