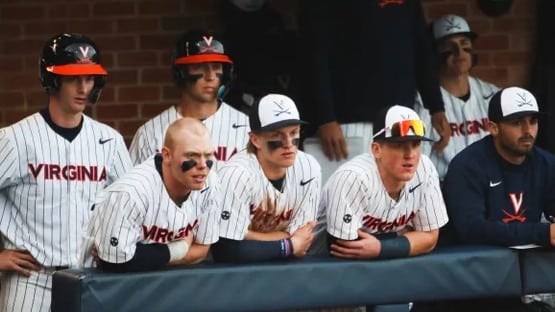 North Carolina broke open a 4-2 game with three in the seventh and three more in the eighth, eliminating #12 Virginia from the 2023 ACC Baseball Championship, 10-2, on Thursday.
UVA (45-12) now awaits its destination for next week's NCAA Tournament regional round, which should be its home field, Disharoon Park, with the Cavaliers projected to be a top-eight national seed.
UNC (35-21), which lost two of three to Virginia in the teams' regular-season series in Chapel Hill two months ago, took the lead for good with a three-run fourth, on an RBI single by Hunter Stokely, a run-scoring double from Alberto Osuna, and a sac fly from Colby Wilkerson.
Virginia cut the lead to 4-2 on a solo homer from Ethan Anderson in the sixth.
The Tar Heels' seventh extended the lead with a two-run single from Tomas Frick and a RBI infield hit from Patrick Alvarez.
A Frick three-run double in the eighth erased whatever lingering doubt there may have been.
Connelly Early (10-2, 3.39 ERA) took the loss for UVA, giving up four runs, three earned, in four innings of work, striking out two and walking four.
The Virginia lineup managed just seven hits on the afternoon.
Anderson, Anthony Stephan and Henry Godbout each had 2-for-4 days at the plate for the 'Hoos.