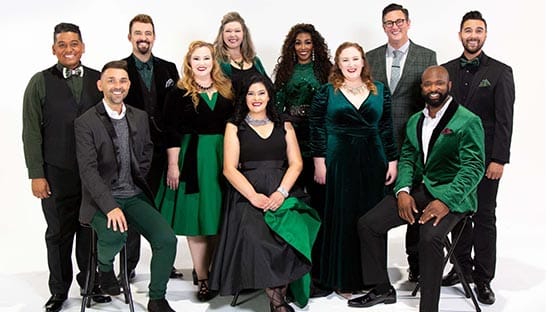 Voctave will perform live on stage at The Paramount Theater on Sept. 24 at 7:30 p.m.
A cappella sensation Voctave has had more than 150 million social media views of their videos, and their albums are frequently in the Top 10. The Spirit of the Season, Deluxe Edition, reached No. 6 on the Billboard charts and The Corner of Broadway & Main Street Vol. 2, debuted at number 3 on the iTunes charts. Voctave's most recent release is an album of lullabies entitled, Goodnight, My Someone.
Formed in 2015 by producer and arranger Jamey Ray, the voices that bring their arrangements to life represent a wealth of diverse backgrounds and musical experiences. Hailing from Central Florida, the 11 members of Voctave have performed across the globe and appear on countless recordings.
The group has performed with Sandi Patty, Pentatonix's Kirstin Maldonado, Mark Lowry, David Phelps and Jody McBrayer.
Voctave includes:
E.J. Cardona
Tiffany Coburn
Ashley Espinoza
Karl Hudson
Chrystal Johnson
Kate Lott
Drew Ochoa
Jamey Ray
Aaron Stratton
Kurt Von Schmittou
Sarah Whittemore
Tickets start at $29.75 and are on sale now at theparamount.net or by calling (434) 979-1333.