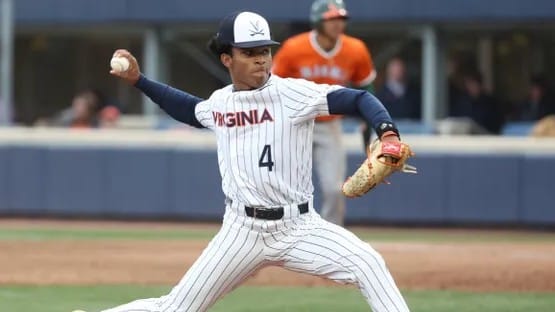 The latest on Jay Woolfolk looking ahead to the fall is that his teammates aren't sure that he'll be a member of the football program for the 2023 season.
The 5'11", 200-pound sophomore, who has been the backup quarterback the past two seasons, is currently a bit busy as the closer for the UVA baseball team, which will be taking part in the NCAA Tournament beginning next weekend, most likely hosting a regional at The Dish.
Woolfolk, the right-handed pitcher, is 2-0 with nine saves and a 2.30 ERA in 25 appearances out of the bullpen this season, with a .188 opponent batting average, 1.37 WHIP and 10.34 Ks/9.
Those numbers have Woolfolk projecting as a consensus Top 150 prospect in the 2024 MLB Draft class, likely going in the middle part of the third round, which would put him in the signing-bonus range of between $650,000 and $800,000.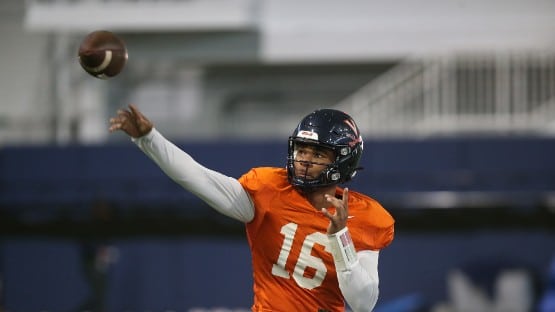 Woolfolk, the quarterback, the backup to Brennan Armstrong the past two years with the football program, getting one start, in 2021.
UVA football coach Tony Elliott needs Woolfolk to be able to compete for the QB1 job in training camp, which begins in July, with Monmouth transfer Tony Muskett and first-year Anthony Colandrea.
The coaching staff, according to program sources, has concerns with Muskett after spring practice, involving his lack of foot speed and decision-making.
Muskett put up respectable counting numbers in the spring game – 11-of-14 for 149 yards, including a 63-yard TD pass to JR Wilson.
But aside from the long TD pass to Wilson, Muskett seemed reluctant to attack the defense in the spring game on intermediate and long routes, preferring to go with checkdowns.
Colandrea, who passed for 3,137 yards and 28 TDs as a senior at Lakewood (Fla.) High School in the fall, was the one who looked like the veteran under and behind center in the spring game.
Colandrea, a three-star recruit, was pegged as a dual-threat QB out of high school, after rushing for 657 yards and eight TDs as a senior.
Woolfolk, for his part, was limited in the spring because of his duties with the baseball program.
It's a big if, but if the baseball team plays deep into the NCAA Tournament, that could limit Woolfolk's time to get ready for the start of training camp in mid-July.
The 2023 College World Series runs from June 15-26.