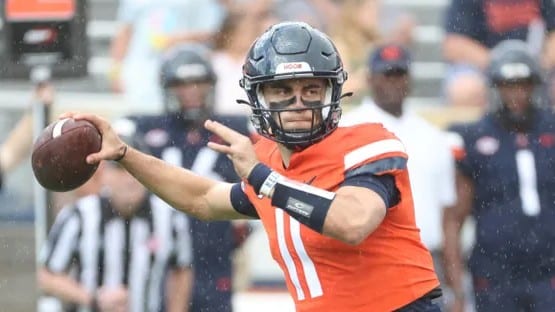 Word out of the McCue Center is that the UVA football brain trust isn't high on Monmouth transfer Tony Muskett, who was brought in off the transfer portal to compete for the QB1 job with last year's backup, Jay Woolfolk.
Muskett was outplayed in the spring game by Anthony Coleandrea, a 6'0", 182-pound first-year who was 18-of-29 for 218 yards against his teammates.
Muskett, a 6'2", 210-pounder, put up respectable counting numbers in the spring game – 11-of-14 for 149 yards, including a 63-yard TD pass to JR Wilson.
But aside from the long TD pass to Wilson, Muskett seemed reluctant to attack the defense in the spring game on intermediate and long routes, preferring to go with checkdowns.
Which plays into the concerns about Muskett, a three-year starter at Monmouth, which competes at the FCS level, that involve his lack of foot speed and decision-making.
Colandrea, who passed for 3,137 yards and 28 TDs as a senior at Lakewood (Fla.) High School in the fall, was the one who looked like the veteran under and behind center in the spring game.
Colandrea, a three-star recruit, was pegged as a dual-threat QB out of high school, after rushing for 657 yards and eight TDs as a senior.
And then there's Woolfolk, who didn't get much run in the spring because he's the closer for the UVA baseball team.
Woolfolk wasn't only a dual-threat QB, but saw snaps at running back, wideout and defensive back at Benedictine College Prep in Richmond.
The 5'11", 200-pounder has one career college start, in Virginia's 28-3 loss to Notre Dame in 2021, in which he passed for 196 yards and threw two INTs.
In depth on Muskett
Muskett, a Northern Virginia native, didn't rank among the top 100 recruits in the 247 rankings for the state of Virginia in the Class of 2020, and didn't earn a star rating from any of the major recruiting services.
Rivals gave him a meager two stars as a transfer recruit.
He put up good numbers through the air at Monmouth, passing for 5,687 yards and 51 touchdowns in 23 career games.
To the question about foot speed, Muskett's numbers on the ground don't look as good – just 149 yards on 163 attempts, though those numbers include losses due to sacks.
A look at his Pro Football Focus profile shows that he did gain 283 yards on scrambles in 2022, averaging 8.1 yards per scramble attempt, which compares favorably to Brennan Armstrong, the long-time starter at Virginia, who gained 326 yards on scrambles last season, averaging 7.2 yards per attempt.
Armstrong, per his PFF profile, has run for 1,020 yards on designed QB runs over his career, averaging 9.9 yards per designed run.
Muskett has a career total of 28 yards on designed runs on 21 attempts.
Then to the question about decision-making, Muskett had a 47.0 NFL QB rating on the 75 snaps in 2022 in which he was deemed to be under pressure.
You can expect that he will be under pressure to the nth degree behind the makeshift O line that lost guys who played 68.1 percent of the snaps last season.
He did put up good numbers last season on deep balls – he was 18-of-41 for 621 yards and nine TDs and a 110.0 NFL passer rating on passes that traveled 20+ yards through the air.
Six of his eight INTs came on short and intermediate passes.
Where things stand
Head coach Tony Elliott and offensive coordinator Des Kitchings stressed repeatedly in spring practice that they wouldn't make a decision at QB until training camp.
It had to have been Muskett's job to lose, given the lack of availability of Woolfolk, who projects as a second- or third-round pick in the 2024 MLB Draft.
Colandrea's performance in the spring game might make it a three-way battle when camp gets going in July.
I wouldn't expect the freshman to be named QB1, but he's going to push Muskett, who's going to need to step up in camp to beat out a guy in Woolfolk who should be throwing 95-mph fastballs into mid to late June.