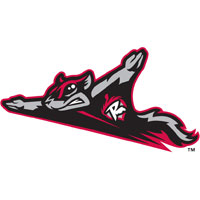 Left-hander Adalberto Mejia led the Richmond Flying Squirrels (39-28) to a second straight shutout of the new hampshire Fisher Cats (28-40), 2-0, in front of 7,644 at The Diamond on Sunday afternoon.  After not posting a shutout through their first 65 games, Richmond has now tossed two straight.  The Squirrels also took the series from the Fisher Cats and hit the road a season-high 11 games over .500.
Mejia (3-5) turned in easily his finest outing as a Squirrel, blanking the Fisher Cats on just four hits for seven innings.  He walked just one, struck out seven and needed just 79 pitches to earn the win.
new hampshire right-hander Scott Copeland gave the Squirrels fits through the first five innings.  However, they finally got him in the sixth.  Ricky Oropesa rolled an infield-single with two outs that allowed Devin Harris to bat in the inning.  He took advantage, crushing a titanic two-run home run to left field.  His sixth – and most impressive – home run of the season gave the Squirrels a 2-0 lead.
Copeland (5-6) was ultimately very strong across seven innings.  He conceded just the two runs on five hits, walked one and struck out four.  However, he did endure the tough-luck loss, his sixth.
A pair of power-arms finished the shutout for the Squirrels.  Right-hander Hunter Strickland worked a perfect eighth inning and righty Cody Hall maneuvered around a hit and an error in the ninth to earn his fifth save of the season.
The Squirrels will take Monday off as they travel to Binghamton, NY.  The will open a three-game series with the Binghamton Mets (New York Mets) on Tuesday night NYSEG Stadium.  First pitch is scheduled at 6:35 p.m. The Flying Squirrels Pregame Warmup begins at 6:05 p.m. on Sports Radio 910 and SportsRadio910.com.