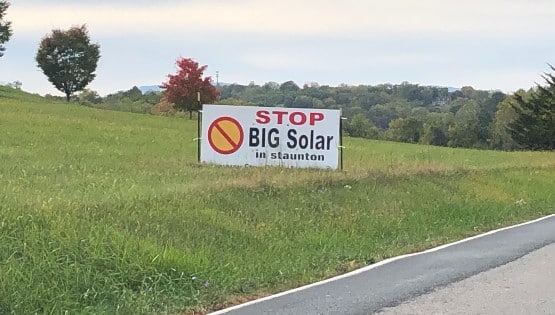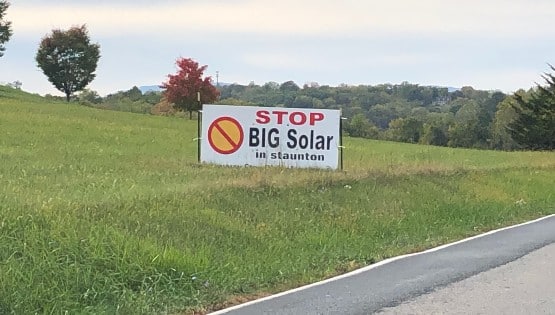 If you've driven in Staunton at all this year, you've seen the signs.
The individuals behind "Stop Big Solar in Staunton" are not against solar energy or solar panels on local schools and homes.
They are against big solar projects that will ruin picturesque views, endanger wildlife and not help Staunton's tax base in the long run.
Ron and Annie Dixon have lived in their home on New Hope Road since 2000. In February 2023, they heard that 95 acres across the street at 801 Commerce Road was sold and would be developed as a solar farm.
"And then we realized they're destroying this beautiful valley," Ron Dixon said.
The beautiful view is also in the John Lewis Creek watershed. Dixon is worried that chemicals from the solar farm's panels will get into the water supply.
According to Annie Dixon, the parcel of land in question was not to be available for development until 2030.
Bob Nutt owns Valley Feed Co. in Staunton. He said the monthly tax at his mill on under one acre of land for water runoff is $300/month. Nutt said he thinks the city is waiving the solar farm's water runoff tax.
"I'm not sure why they approved [the solar farm]," Nutt said.
On June 22, Staunton City Council approved development of the solar farm at 801 Commerce Road after only a few months of discussion and a May 25 vote for a special-use permit was delayed. Instead of a special-use permit, the Agricultural-Forestal Advisory Committee recommended, and the Staunton Planning Commission voted to take the land out of agricultural use seven years ahead of schedule. The June 22 vote was 5 in favor, 2 against. Vice Mayor Amy Darby and Mark Robertson voted against the project.
Nutt is the exception in the group, and is against any solar projects. He has researched what can go wrong with free solar energy. He is also a seventh-generation descendent of John Lewis.
"At very best, it can only produce about 23 percent of our needed electric power, because it doesn't produce at night, it doesn't produce during thunderstorms and it must be supplemented," Nutt said. Solar power cannot exist alone.
The only entities who can use the output of solar farms, like what is planned for 801 Commerce Road, are big companies.
The Oikos Staunton Utility Solar Project and Oikos Staunton Community Solar Project will be a MWAC utility scale solar and battery storage electric power generation facility. The property owner is Flying Rock Property LLC of Midlothian, with developers and affiliates in Ashland, Vienna, Glen Allen and Brunswick. The property was purchased in August 2022.
"This is not the only alternative energy," Annie Dixon said. She is most concerned with the speed with which Staunton City Council discussed then approved the project. "The speed and the scale of this seems inappropriate."
The project requires a 25 to 40-year schedule.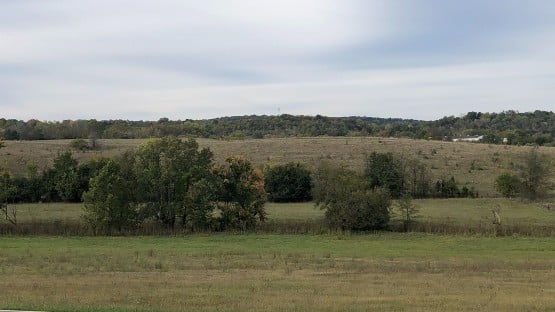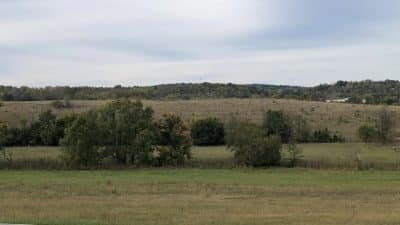 "So, it's a commitment," Annie Dixon said.
And the special-use permit took the land out of agricultural use, which sets a precedent for other land in Staunton to be taken out of agricultural use.
"They broke that commitment to the farmers in that district [Bells Lane]," Annie Dixon said.
The Dixons are also concerned about the presence of batteries on the solar farm. The owner of the property said in a city council meeting before approval that he would remove the batteries from the proposal, but they were not removed. A recent large fire in upstate New York's Jefferson County outside the town of Chaumont and nearly 80 miles north of Syracuse was caused by similar batteries.
The city may receive slightly more tax revenue from a solar farm, Nutt said, but local firefighters must be taught specifically how to handle fires caused by solar batteries.
Lisa Hatter's parents have lived live on New Hope Road since 1967 and they will clearly see the solar farm's panels from their front porch. She said the city's comprehensive plan included the land at 801 Commerce Road as agricultural land.
"It's pretty simple," Annie Dixon said. "The comprehensive plan doesn't support this." The picturesque view on New Hope Road is mentioned in the comprehensive plan as a value.
Ron Dixon said that once the project is complete, the view is gone, and it cannot be reversed.
The city of Staunton markets itself as a historic city for tourism. The city's value lies in its appeal as a tourist site.
Park Thompson's great-grandfather settled in Staunton in 1915 on Belfort Farm.
"This is Staunton's origins," said Thompson of his family's home on the farm that was owned by John Lewis, a Scotch-Irish who came to Augusta County in 1732. "This is where [Staunton] started."
The farm, Bellefont, that was John Lewis' is directly next to the solar farm project.
"They're really destroying the John Lewis settlement," Ron Dixon said.
The Stop Big Solar in Staunton group has filed a legal challenge against the project.
"They broke the law with a lot of this," Annie Dixon said.
Many projects have come to Staunton, Waynesboro and Augusta County in recent years with plans to create growth and jobs in the Valley.
"This doesn't develop any jobs," Hatter said of the project.
A petition against the solar farm development is available online.