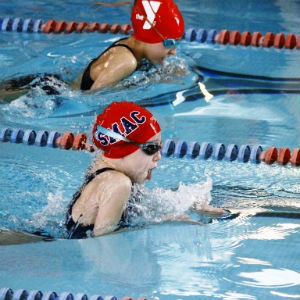 The Waynesboro Y year round competitive swim team, SMAC, (Shenandoah Marlins Aquatic Club) hosted a tri meet against CYAC (Charlottesville Y Aquatic Club) and Staunton Y on January 31.  The meet was scheduled to give the area swimmers a chance to compete against their close rivals without the expense of traveling to Richmond or Christiansburg and staying in a hotel.
All of the SMAC swimmers participated in the meet.   The older SMAC swimmers practiced for two hours before the meet started then competed in the first relay and then stayed and cheered for their younger teammates.  It was a good experience for all.
Highlights of the meet included the small but muscular Ellie Schundler breaking two SMAC records in the girls eight and under age group.  She lowered the 200 free by a second and the 500 free by a whopping seven seconds.  Not to be outdone nine year old Haley Sheffield set a new SMAC record in the 200 backstroke.  Other highlights included:  Emma Hill winning the 500 free and breaking the six minute barrier, Hailey Ruszala winning the 8 and under 25 free, Tate Snyder winning all three of his races (100 breast, 100 free & 200 fly), Kristen Wagner winning all three of her races (100 back, 100 free & 200 fly), Anna Wissler winning the 8 and under 25 fly, Sterling Wissler winning the 8 and under 25 free, Emma Woodworth winning the 200 back and 72 new lifetime best times.
Congratulations to all the swimmers for their success.  The work at practice has paid off.
SMAC has a few openings left in its younger age groups that practice M, W, F from 4-5 pm and Saturday 9-10 am.  If you have interest contact Coach Norm Wright, Director of Competitive Swimming at the Waynesboro Y at 942-5107 or email him at [email protected]
For more information about SMAC, please visit their website: www.smacswimming.org.