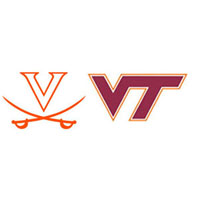 November 29th, 2003. An important date in UVA football history. The last time the Cavaliers' tasted victory against in-state rival Virginia Tech. seniors on this year's squad were about 12 years old. Six redshirt senior classes have walked the grounds without bringing the Commonwealth Cup back to Charlottesville.
While neither the Cavaliers or Hokies or having banner seasons, it is a rivalry game with both teams playing for postseason bowl eligibility, and for Virginia even a lower-tier bowl game would be a giant mark of "definitive progress" that UVA Athletics Director Craig Littlepage said he would be seeking from this year's Mike London-coached team.
Last season Virginia suffered through a dismal 2-10 campaign that saw Scott Stadium half-empty for most clashes and clamoring among Wahoo faithful for a coaching change. A win Friday night in Blacksburg would almost certainly ensure a return for London.
For Tech it's a last chance to redeem itself from an equally woeful season; standing 5-6, the Hokies need a win to extend a 21-year streak of postseason play, and calm the waters around Tech coach Frank Beamer.
Virginia snapped a four game losing streak Saturday night with a convincing 30-13 win over visiting Miami. It was the Cavaliers' most complete performance of the season -one of which they hope to build upon in Southwest Virginia Friday night.
The Commonwealth Cup could simply come down to a battle of the two teams' offensive lines. After Tech quarterback Michael Brewer was sacked five times at Wake Forest (in a 6-3 loss to the Deacons), making it 29 times a Hokie signal-caller had been sacked this season, Tech's preparation this week has been centered around better protection of whom ever will be under center.
Virginia me,anwhile, has 35 sacks this season, ranking among the Atlantic Coast Conference leaders in that category.
The UVA offensive line has done an excellent job of protecting the quarterback, giving up just 12 sacks (3rd fewest in the ACC) , encouraging when facing a Tech defense that leads the conference in sacks with 42.
So the regular season finale for both teams in what will most likely will be a frigid Lane Stadium may simply be a no glitz, no thrills or frills affair.
Just good old-fashion smashmouth football. And the team with the most might hoisting the Commonwealth Cup.
– Column by Scott German