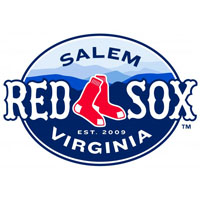 Simon Mercedes held the Dash to just one run on four hits over six and a third innings, paving to the way to Salem's narrow 2-1 triumph over Winston-Salem on Thursday night at BB&T Ballpark. The victory keeps the Sox ahead in the Southern Division wild card chase, with Salem now residing two games ahead of Winston and two and a half ahead of Carolina with 11 days remaining in the 2014 regular season.
Mercedes earned his second straight win, following up his six scoreless inning performance from last Thursday night with another dazzling outing. All four hits he allowed were singles, with the Dash only scratching him for a single run in the last of the sixth inning. Kyle Martin took over on the hill with one out in the seventh and carried the Sox to the finish line, earning his 10th save with two and two thirds scoreless innings.
Offensively, Salem broke through against Dash starter Tyler Danish in the top of the third. With two outs and the bases empty, Dreily Guerrero tripled down the right field line. Then Matty Johnson bounced a high chopper to short and beat the throw to first for an RBI infield single, giving the Sox a 1-0 lead.
In the top of the sixth, Johnson led off with a double, part of his 2-for-3 night that extended his consecutive games on base streak to 22 in a row. Carlos Asuaje followed with a line drive single to left, and Courtney Hawkins' error allowed Johnson to score and make it 2-0.
The Dash seriously threatened in the last of the ninth, with Keon Barnum leading off with a single. A sacrifice bunt moved the pinch-runner Zach Voight to second base, and a two-out wild pitch put the tying run at third. But Martin induced a Nick Basto groundout to end it, with the Dash falling just short in their quest for the three-game sweep.
Barnum went 4-for-4 for Winston, but the rest of the Dash hitters went a combined 1-for-26.
Salem returns to the Roanoke Valley on Friday night for a four-game series against the Wilmington Blue Rocks. The action starts at 7:05, with Cody Kukuk expected to start against Brooks Pounders.