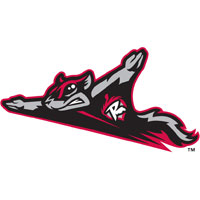 Left-hander Ty Blach worked six scoreless innings to lead the Richmond Flying Squirrels (4-3) to a, 5-1, victory over the Bowie Baysox (5-2) on Wednesday afternoon at Prince George's Stadium.  Blach earned his first Double-A win, as the Squirrels posted their first series victory of the season.
Bowie left-hander Eduardo Rodriguez made a perfect first pass through the Richmond order, making short work of the first three innings.  However, Tyler Graham greeted him with a single in the fourth.  Graham stole second base and came in for the lead when Ricky Oropesa doubled to left-center field.  Angel Villalona made it 2-0 with a double to score Oropesa sent to the left-field corner.
Richmond doubled their advantage with a two-out uprising.  Kelby Tomlinson got the Squirrels started with a double to right field.  Graham followed and drew a walk to put two aboard.  The Squirrels executed a successful double-steal and Matt Duffy knocked in both runners with a single to center field.
Rodriguez (1-1) retired to the loss after five innings.  He conceded four earned runs on five hits, walked one and struck out five.
The Squirrels tacked on a run against Rodriguez's successor, Fabio Castillo, in the sixth inning.  Mario Lisson got Richmond started with a lead-off single and advanced to second base on a wild pitch.  Two outs later, Ryan Lollis singled back through the middle to bring in Lisson for a 5-0 lead.
Blach (1-1) was tremendous over six scoreless innings to earn the victory.  He conceded just five hits – all singles – and walked just one.  He did not record a strikeout in the win.
Left-hander Josh Osich took over for the seventh inning and fired a scoreless frame.  He returned for the eighth inning and recorded the first two outs.  With two runners on, Austin Fleet was summoned to relief Osich.  He allowed one of the runners to score when Dariel Alvarez singled into left field.  It ended the shutout bid for Richmond, but Fleet escaped the inning with Richmond still in front, 5-1.
Right-hander Derek Law came on and finished the win for the Squirrels with a scoreless ninth inning.  It was not a save situation for Law, one of the Richmond closers.
The Squirrels return home to celebrate 2014 Opening Night at The Diamond on Thursday night at 6:35 p.m.  The opener will also be the first game of a four-game series with the Altoona Curve (Pittsburgh Pirates).  LHP Clayton Blackburn (0-0, 1.80) will make the start for Richmond against Altoona RHP Adrian Sampson (0-1, 3.00)ew .  Pregame coverage will begin at 6:05 p.m.on SportsRadio910.com.