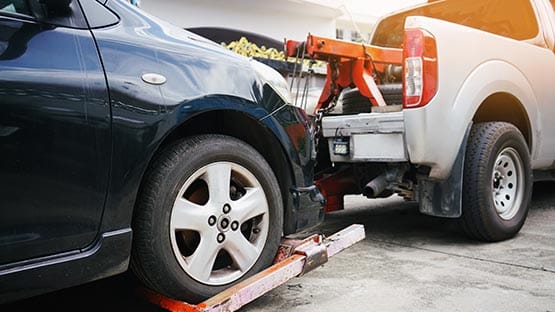 A second company and its owner now faces charges in Richmond due to illegal towing and sale of vehicles without the owner's consent.
A search warrant was served this week at On Demand Towing located in the 5300 block of Old Midlothian Turnpike in Richmond.
During the execution of the warrant, agents from DMV's law enforcement division arrested On Demand Towing Operator, Andre Rapheal Crawley, 45, of Chesterfield.
Crawley is charged with two counts of forgery, two counts of uttering, two counts of falsifying public record, two counts of perjury in DMV matters, one count of falsifying an application for certificate of title and one count of misdemeanor fraudulent conversion.
Crawley is accused of forging the name of the owner of a vehicle on a title and another document when he sold the vehicle. The forgery was discovered when the person who bought the vehicle took the title to DMV and found out the vehicle had been reported stolen. The theft of the vehicle is being investigated.
The search warrant was served by detectives with the Richmond Police Department with assistance from Virginia State Police and investigators with the Virginia Department of Motor Vehicles.
This is the second towing company to face charges in the Richmond area. Last month, No Limit Towing and Recovery was also searched and the business owner was charged in the investigation. Business owner Sherral Crawley has been accused of stealing 16 vehicles in Virginia, according to court records.
At the news conference following that warrant at No Limit Towing last month, RPD asked the public to come forward with information regarding allegations of illegal practices by towing and recovery operations. Tips led to the search warrant and charges for On Demand Towing this week.
"We appreciate our partner agencies assisting us in this complex investigation," said Richmond Police Chief Rick Edwards, "just as we appreciate the public coming forward with information. With months of research, interviews, and meticulous follow-up by our detectives, these collaborative efforts bring results."
If anyone believes they have been a victim of vehicle theft or fraud by a towing and recovery operator, call Richmond Police Detective Sergeant Castrinos at (804) 646-1144 or email [email protected].
Towing fees in Richmond
Towing fees legal in the city of Richmond when towed from private property without the owner's consent:
Initial fees should not exceed $135 for weekdays and non-holidays during the day (8 a.m. – 7 p.m.)
Initial fees should not exceed $160 for weekends and holidays, or during evening hours (7 p.m. – 8 a.m.)
Fees for storage should not exceed $45 per day
A $50 fee can be charged after a vehicle has been stored for more than 72 hours
Drop fees should not exceed $40
An after-hours release fee of $35 for retrieval of a vehicle during evening hours (7 p.m. – 8 a.m.)
No other fees to include: credit card charge fees, fuel fees, mileage fees or equipment fees are permitted.
Towing fees in Virginia
Towing fees pursuant to Virginia code § 46.2-1233:
No hookup and initial towing fees of any passenger car shall exceed $150.
An additional fee of $30 may be charged during nights or weekends.
Localities can set and enforce initial towing fees at a lower price, should they wish.
Related stories
Update: Owner of No Limit Towing surrenders to Richmond Police to face theft charges
Richmond Police seek No Limit Towing owner for 16 felony indictments of vehicle theft
Richmond Police alert public to ongoing towing fraud investigation
While serving the country, military members had cars towed, illegally auctioned