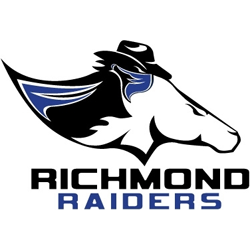 A 20-0 run to close the first half gave the Nashville Venom a 48-21 lead, and they never looked back as they ended the Richmond Raiders' four game winning streak, 63-28 at the Richmond Coliseum.
Both offenses were strong out of the gate. Raiders quarterback Phil Konopka threw three touchdown passes, but thanks to a three and out, the Venom led 28-21 after getting touchdowns on their first four possessions. Charles McCullum passed for one and ran for two in that stretch, including a 22 yard scamper on a broken play. After the Raiders pulled to within 7, McCullum threw a 40 yard bomb on the first play of the Venom drive to Phillip Barnett to start the decisive run.
The Raiders were poised to get within one score in the final minute before halftime, then receive the second half kickoff with a chance to get right back in the game. Instead, on the first play following the kickoff, Konopka was chased and hit before he could throw the ball away, fumbling at the one yard line. Mack Ogletree ran it in one play later to get the Raiders reeling, and the Venom defense delivered the knockout punch in a case of déjà vu. Again Konopka was harassed in the end zone, again he fumbled, and this time Cobrani Mixon recovered for the touchdown.
The Raiders went three and out to start the second half, and McCullum threw touchdown passes to George Murray on consecutive drives. Konopka logged his fourth TD in between, but those would be the last points the Raiders would score. Jon Bane relieved Konopka in the fourth quarter and drove the Raiders to the five yard line, but ultimately turned the ball over on downs on both of his series.
Though the Venom's top ranked offense proved to be too much for the Raiders' top ranked defense, it was Nashville's defense that made the biggest statement. The Venom tallied six sacks (while the Raiders' top ranked sack unit managed just one) and two takeaways, allowing a season low 130 total yards. Meanwhile, the Raiders allowed a season high 63 points and tied the largest margin of defeat.
McCullum finished with an efficient 17 for 24 passing line, with 212 yards and four touchdowns. Their offense was well balanced, as they rushed for four touchdowns and a season high 73 yards. Daron Clark was the Raiders' leading receiver, with six catches, 79 yards, and two touchdowns.
The Raiders remain in a tie for second place in the National Conference with the Lehigh Valley SteelHawks. The two teams will square off in the regular season finale next week in Bethlehem, PA with the winner advancing to the PIFL playoffs.