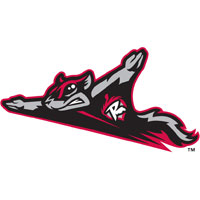 The Richmond Flying Squirrels (45-31) completed a three-game sweep of the harrisburg senators (30-46) and extended their win-streak to six games with a, 6-2, victory on Wednesday afternoon at The Diamond.  The Squirrels also extended their newly-minted franchise record for games over .500 to 14 and struck out a season-high 15 batters.
The Squirrels grabbed a quick lead in the top of the first inning against right-hander Brian Dupra.  With one out, Dupra hit Kelby Tomlinson.  He was then forced out by Jarrett Parker, who took his place on the bases.  Devin Harris followed and crunched a double into the left-field corner.  Parker came around from first base for a 1-0 lead.
Richmond tacked on a pair against Dupra in the fourth inning to take a 3-0 advantage.  Harris led off and punched a double into the left-field corner.  Ricky Oropesa followed and yanked a single to right to put runners at the corners.  Myles Schroder then drew a walk before Tyler LaTorre and Ryan Lollis delivered back-to-back sacrifice-flies to bring in the two additional runs.
Parker sparked the Squirrels with a two-out single as they added an additional run in the fifth.  Parker stole second base before Harris delivered his third hit of the day – a single to left field – to score him for a 4-0 lead.
The four runs were more than enough for right-hander Kyle Crick (5-3) and the Richmond bullpen.  Crick worked five scoreless innings, despite issuing five walks.  He allowed just one hit and struck out a season-high 10 as he earned his fifth win.
Dupra (1-3) took his third loss over five innings.  He allowed four earned runs on six hits.  He walked one and struck out three.
Right-hander Andrew Carignan and lefty Josh Osich each worked a scoreless inning of relief before right-hander Hunter Strickland had some trouble in the eighth.  Quincy Latimore ended the Squirrels' shutout bid when he cracked a solo-home run to left field.  The Senators picked up an additional run in the inning, which Strickland was unable to finish.  However, left-hander Steven Okert – making his Double-A debut – cleaned up the inning and also finished the ballgame.  He earned his first save, retiring all five batters that he faced.
The Squirrels capped their scoring in the bottom of the eighth inning with an unearned run against righty Robert Benincasa.
The Squirrels continue their weeklong home stand as they welcome in the Bowie Baysox (Baltimore Orioles) for a four-day, five-game series beginning at The Diamond on Thursday night.  The opener of the series is scheduled for 6:35 p.m. as Richmond RHP Austin Fleet (4-1, 3.45) will make the start against Bowie LHP Tim Berry (4-3, 4.00).  The Flying Squirrels Pregame Warmup begins at 6:05 p.m. on Sports Radio 910 and SportsRadio910.com.