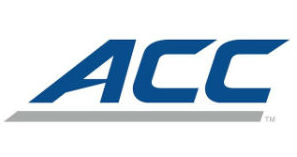 Tim Brant, longtime Raycom football and basketball play-by-play announcer, and Ken Haines, the former President and CEO of Raycom, are the recipients of this year's Marvin 'Skeeter' Francis Award. The Francis Award recognizes individuals for distinguished service to, or coverage of, the Atlantic Coast Conference.
Haines joined Raycom during its founding and since 1982 was involved in all facets of the company's operation, specializing in product acquisition and contract negotiations with colleges, athletic conferences and television networks. Prior to overseeing the daily management of Raycom, he was the athletic liaison, chief public affairs officer and spokesperson to the president at Virginia Tech. Haines has established multiple public radio stations, the Virginia Tech radio network, and worked in television news. He retired from Raycom at the end of 2015.
Haines has a B.A. degree from Dakota Wesleyan University, an M.S. from Troy State, graduate work at the University of Wyoming and an advance graduate degree from Virginia Tech. He was named an Opperman Distinguished Lecturer and alumnus of year at Dakota Wesleyan in 1998, outstanding TV Sports Executive by the All American Football Foundation in 1999, the fourth-most powerful person in the ACC by the Orlando Sentinel in 2009, received the ACC Commissioner's Cup in 2013 and was a National Association of Collegiate Directors of Athletics Golden Anniversary Honoree in 2015.
Haines resides in Charlotte with his wife, Stephanie. They have one daughter, Avery, who also resides in Charlotte.
Brant, who will retire from Raycom after the 2016 New York Life ACC Tournament, has handled play-by-play duties for both Raycom Sports ACC Football and ACC Basketball telecasts and has spent nearly 30 years covering sports for Raycom, CBS and ABC Sports. He retired in 2015 as Vice President and Sports Director for ABC 7 / WJLA-TV in Washington DC. The multi-faceted Brant has served many roles, including sideline reporter, analyst and play-by-play announcer. He is a veteran of two Olympics broadcasts and for more than a decade was the morning co-host for ABC-owned WMAL Radio in Washington, DC.
During his broadcasting career, he was named college football's top analyst by numerous publications, including by USA Today in 1986. Brant teamed with Keith Jackson as the voice of the PlayStation video game NCAA Gamebreaker for 989 Sports. He has been honored as the Sportscaster of the Year in 1996 by the Touchdown Club of Washington, the Distinguished Alumnus Award by the University of Maryland in 2002, Distinguished Professional Achievement by the Phillip Merrill College of Journalism in 2002, and in 1999, he was inducted into the St. John's College High School Hall of Fame.
A star linebacker and defensive captain at Maryland, he was with the Washington Redskins in their 1973 camp, before he suffered a career-ending knee injury. Brant and his wife Janet reside in Potomac, MD. They have four children and three grandchildren.
The Award is named after Marvin 'Skeeter' Francis, who served as the longtime sports information director at Wake Forest and the first administrator of the ACC's media services division. It will be presented during the ACC Tournament semifinals on March 11 in Washington, DC.