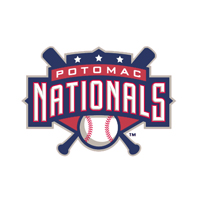 On Tuesday evening at Pfitzner Stadium, the Potomac Nationals (52-62 Overall, 26-33 Road, 26-29 Home, 19-25 Second Half) split their de facto doubleheader with the Winston-Salem Dash (59-56 Overall, 32-28 Home, 27-28 Road, 29-16 Second Half) after taking the completion of a suspended July 13th contest that started at BB&T Ballpark in Winston-Salem, NC by the final score of 8-5 but losing the nightcap, a seven-inning game, 1-0.
With the Nationals serving as the visiting club at their own ballpark, play resumed in the frontend of the makeshift twin bill with the Dash leading 3-1 on a two-run home run clubbed off Potomac LHP Matt Purke, now a member of the Double-A Harrisburg Senators, by Dash 1B Keon Barnum and an RBI single ripped by Winston-Salem DH Jeremy Dowdy in the 1st inning on 7/13.
The P-Nats lone run scored in the 3rd frame off Winston-Salem LHP Brian Clark (3-4) that night in the Tar Heel State via a fielding error charged to Dash 3B Trey Michalczewski on a ball ripped by P-Nats CF Narciso Mesa.
The same reliever as was used on 7/13, Clark toed the rubber in the resumption and was hit with (retroactively) his fourth loss of the campaign. Clark allowed eight runs (seven earned runs) on 11 hits in 4.1 innings with one walk and six strikeouts to his line.
Once action picked back up a month later, the Nationals tied the game at 3-3 in the 4th vs. Clark when 1B Grant DeBruin blasted a two-run double to the gap in right-center field scoring the single of Potomac CF Rafael Bautista and the ground-rule two-bagger swatted to left-center by C Zach Wright.
The Dash took a 4-3 lead in the 5th stanza on a 4-3 Barnum RBI groundout scoring Winston-Salem 2B Jake Peter, who sliced a one-out double to the left field corner to get aboard.
Then, the Nationals exploded for five runs on six base hits in the 6th inning to take an 8-4 lead. Wright and DeBruin went back-to-back with doubles for the second time in the game, 2B Khayyan Norfork laid down a bunt single, LF Estarlin Martinez sprayed an RBI single to center field, 3B David Masters moved two runners into scoring position with a sacrifice bunt, RF Narciso Mesa lined a two-run single to the left field alley then stole second and third base, and SS Stephen Perez capped the scoring by blooping a run-scoring single into shallow right-center.
Winston-Salem plated their final run, a solo tally, in the 6th on an RBI sacrifice fly lofted by Dash RF Nolan Earley to score the leadoff single nailed by C Omar Narvaez.
Nationals RHP Tyler Mapes (2-1) piggybacked the work of Purke by going 4.0 innings and allowing two runs (one earned run) on five hits and one walk while fanning three en route to (retroactively) his second win in 2015.
P-Nats LHP R.C. Orlan fired two scoreless innings in relief of Mapes surrendering two hits and one walk but fanning one.
Dash RHPs Euclides Leyer and Michael Ynoa combined to toss 3.2 scoreless frames in back of Clark.
Potomac RHP Phillips Valdez turned in a perfect 9th to technically ink his first save of the 2015 season due to the backdated nature of recording statistics for the completed suspended 7/13 game.
The contest took three hours and four minutes to complete the affair with a 57 minute thunderstorm stoppage from 7/13.
With the win, The Red, White, and Blue took the four-game set from 7/10 to 7/13 three games to one.
In the second game played on Tuesday, the regularly scheduled clash, Nationals starter, RHP Brian Rauh (2-1) pitched a gem but did not receive any run support and took his first loss of the 2015 season with Potomac. Rauh tossed 7.0 innings and allowed just one earned run on five base knocks (four singles and one double) while walking one hitter and fanning a season-high nine batters.
The Nationals went 0-for-6 with runners in scoring position and squandered run-scoring situations in the 1st inning with Bautista at third base and one out, Perez at second base with two outs in the 2nd, runners on the corners with no one out in the 5th, and the bases loaded in the 6th with two outs.
Bautista was thrown out by Earley on a one-hop bullet to home plate in the opening frame, Norfork flew out to end the 2nd, P-Nats C Craig Manuel lined into a twin killing to Peter at second base to wrap the 5th, and Dash CF Adam Engel made a sprawling catch in the 6th towards the infield diamond to rob Potomac LF Alec Kellerof a potential go-ahead two-run base hit.
Dash starter, LHP Andre Wheeler took a no-decision despite throwing 4.0 scoreless innings. Wheeler gave up two hits and one walk.
Winston-Salem RHP Jake Cose (6-3) grabbed his sixth victory with 2.0 no-run frames. Cose allowed just one hit and one walk while striking out one.
The Dash got the victory despite going 0-for-4 with runners in scoring position on an RBI double cranked to right-center field by Engel in the 6th inning off Rauh.
Dash RHP Brad Goldberg (6 SV) stayed perfect in saves (6-for-6) by sidestepping a leadoff single allowed to Perez in the 7th inning before Norfork grounded into a 4-6-3 double play. Manuel then chopped a 6-3 groundout to Dash SS Eddy Alvarez who narrowly collided with Peter, to end the game.
Potomac now owns a record of (7-3) in makeshift "doubleheaders" that consist of the completion of a suspended game followed by a regularly scheduled clash in 2015. The Nationals are (17-22) in one-run games thus far during the 2015 ledger.
In series Game Two of their three-game set on Wednesday night, the P-Nats send RHP Reynaldo Lopez (5-7, 4.55) to the hill to gun against Winston-Salem RHP Yency Almonte (2-0, 0.00) with first pitch slated for7:05pm.
The Potomac Nationals Baseball Network will carry live coverage of the game beginning with the "P-Nats Lead-Off Show" at 6:50pm before the live play-by-play at 7:05pm. P-Nats Gameday Audio on the Potomac Nationals Baseball Network is accessible at www.potomacnationals.com or with the TuneIn Radio App.
Wednesday night at The Pfitz will be Bellybuster Night sponsored by: Buffalo Wild Wings Woodbridge as P-Nats fans can upgrade their ticket at the Potomac Nationals Ticket Office with a $7 add-on to enjoy an all-you-can-eat buffet in the WashMyDeck.com Picnic Patio.
– Source: Potomac Nationals