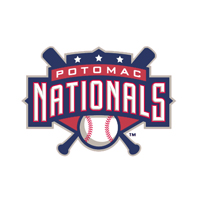 The Potomac Nationals (35-28, 17-16) rallied past the Carolina Mudcats (27-35, 13-20) with three runs in the 8th inning on Monday evening at Five County Stadium to set the hook on a 5-4 victory in the series opener of a three-game road set.
The P-Nats' magic number to clinch their second consecutive Carolina League First-Half Northern Division Championship is now four wins.
Potomac is now a (16-6) club in one-run contests, which is the highest winning percentage in the Carolina League. (.727)
Nationals starting hurler, RHP Brett Brach received a no decision after dealing 5.0 frames in which he allowed three earned runs on seven hits while walking two, hitting a batter, and fanning one.
Mudcats starter, LHP Shawn Morimando pitched 6.1 stanzas in which the southpaw surrendered two earned runs on two hits. Morimando walked a pair and struck out a trio after returing the first eleven batters of the game. Like Brach, Morimando did not factor into a decision.
An RBI single in the 2nd inning off Brach struck by Carolina 2B James Roberts served over the head of Nationals SS Stephen Perez provided the Mudcats an early 1-0 lead.
Potomac fired back with one run in the 5th to tie the contest at 1-1 via a run-scoring double socked to the left field wall by C Pedro Severino which scored RF Justin Miller, who singled through the hole at shortstop to get aboard.
Miller turned in a great night at the plate going 3-for-4 with one run scored and two RBIs.
Carolina struck for two runs in the bottom of the 5th to take a 3-1 lead on an RBI single by SS Erik Gonzalez and a run-scoring 4-6-3 double play ball off the bat of RF Anthony Gallas.
Nationals LHP Chris Manno made his 2014 debut and despite walking three in the 6th also struck out a pair and RHP Travis Henke stranded the bases loaded after Carolina 3B Joe Sever chopped into a fielder's choice force out at second base to end the Mudcats' threat.
Against the eventual losing pitcher of record, Mudcats RHP Josh Martin (3-4), who blew a save for the first time this season, the Nationals made it a 3-2 game in the 7th inning on a run-scoring single slapped through the six hole by Miller.
The Nationals then exploded for three runs an inning later on three consecutive RBI singles from 3B Khayyan Norfork, CF Will Piwnica-Worms, and Miller.
Martin allowed three earned runs on four hits and two walks in 1.1 innings.
The Mudcats fought back with one run off the winning pitcher, RHP Derek Self (3-0) in the 8th when Carolina LF LeVon Washington blooped an RBI double to the left field corner.
Self gunned through 2.0 innings and allowed one earned run on five base hits without walking a batter and collecting three strikeouts.
P-Nats RHP Robert Benincasa (SV 10) turned in a perfect 9th inning to convert his 10th save of the campaign after getting Gonzalez to fly out to right field, Gallas to swing and miss at strike three, and C Jeremy Lucas to ground into a 4-3 putout that ended the contest and sealed the 5-4 Nationals win.
Game Two on Tuesday night will pit Potomac RHP Dakota Bacus (2-1, 3.12) against Carolina RHP Michael Peoples (2-6, 5.36).