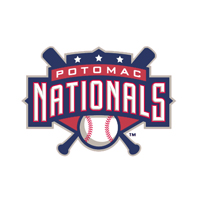 The Potomac Nationals (26-26, 14, 15) blasted the Winston-Salem Dash (21-31, 10-15) on Thursday night at BB&T Ballpark winning 14-4 in the series finale.
The Nationals' 14 runs registered as a season-high and the 19 base hits Potomac pounded out was also a campaign-best total for a single contest.
Nationals DH Oscar Tejeda and LF Randolph Oduber each collected four hits in the game. Tejeda scored four runs, homered, and drove in three runs. Oduber plated a pair of runs and scored once.
P-Nats LHP Matthew Spann (4-0) gunned to his fourth win tossing 6.0 scoreless innings and scattering four base hits including three singles and one double. Spann fanned one, walked three, and induced 10 groundball outs and two flyouts.
The P-Nats exploded for nine runs in the 2nd inning, the most runs they have scored all season in one frame and were the beneficiaries of four Dash errors in the inning. Potomac brought 15 men to bat in the 2nd while receiving  an RBI double from 3B Khayyan Norfork before a two-run error via an errant throw to second base from Winston-Salem 3B Grant Buckner brought home 1B Shawn Pleffner, who singled, and Norfork.
CF Will Piwnica-Worms scored on an RBI infield single for Oduber. After reaching on a fielder's choice, RF Justin Miller moved to third base on an error committed by the losing pitcher, RHP Tyler Danish (0-1) on a wide throw to first base. Nationals SS Stephen Perez got on board after a ball kicked off Dash 1B Keon Barnum allowing Miller to score. P-Nats 2B Tony Rendalofted an run-scoring double to the right field corner plating Oduber. Tejeda lashed a two-RBI double into the alley in left-center field to get Perez and Renda home chasing Danish from the game in favor of LHP Sean Hagan. After the bases were loaded on a Norfork single and a walk handed out to C Cole Leonida, Piwnica-Worms reached on the second fielding error committed by Barnum bringing Tejeda to the platter to give the Nationals a 9-0 lead.
Danish went just 1.1 innings and surrendered nine runs, three earned, on seven hits while walking one and striking out one.
Hagan would go on to allow one earned run in 2.2 innings on two hits including a solo home run cranked to the party deck in left-center field by Tejeda in the 4th stanza. This was Tejeda's eighth four-bagger of the season.
The Nationals added one more run in the 5th inning on a sac fly from Perez off Dash LHP Jose Bautista to yield an 11-0 score.
One run in the 7th for the P-Nats was summoned home on an RBI two-base knock hammered by Oduber against Bautista to put Potomac up by a dozen runs.
Four run tallies were logged by the Dash in the 8th inning off Potomac RHP Travis Henke. Dash SS Tim Anderson ripped a solo home run to the gap in left-center on the first pitch of the inning. The double of Dash CF Courtney Hawkins scored as Martin Medina was hit by a pitch with the bases loaded.
Henke allowed two earned runs on two hits and two walks.
Nationals RHP Wander Suero entered to relieve Henke and got the final two outs of the 8th.
Two runs did score on a throwing mistake by Leonida on a potential 1-2-3 double play ball struck by Buckner before Winston-Salem DH Michael Marjama rapped an inning-ending 4-3 groundout.
The P-Nats struck for two more runs in the 9th on offerings from Dash LHP Jefferson Olacio when Leonida belted a two-RBI single up the middle with the bases loaded to make a 14-4 advantage for the Nationals.
Nationals RHP Derek Self extended his consecutive scoreless innings streak to 20.2 frames in the 9th by fanning two and inducing a Hawkins groundout to end the game. 
The Potomac Nationals travel home to Woodbridge, VA through the night to prepare for a four-game series with the defending Carolina League Champion, Salem Red Sox (Boston) which begins Friday at 7:05pm inside the confines of Pfitzner Stadium.
In the set opener, Salem will throw LHP Cody Kukuk (1-3, 4.43). The Nationals have yet to announce their starting hurler.
The Potomac Nationals Baseball Network, which is accessible at www.potomacnationals.com, will provide live broadcast coverage of Friday's Game One with the Salem Red Sox. The P-Nats Leadoff Show will begin at 6:50pmbefore the play-by-play at 7:05pm.