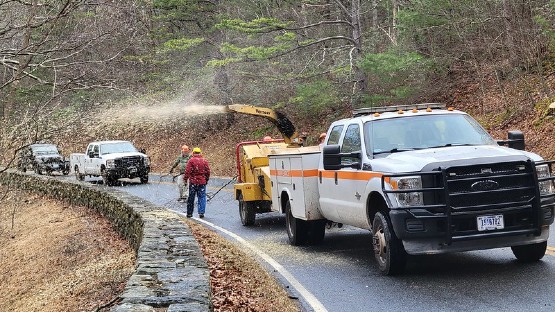 Shenandoah National Park has reopened portions of the Skyline Drive and the Big Meadows Area three weeks after the first of two winter storms force closures.
The Skyline Drive is now open from Mile 0 (Front Royal Entrance) to Mile 5 (Dickey Ridge Visitor Center) and Mile 31.5 (Thornton Gap Entrance) to Mile 42.6 at Whiteoak Parking.
The Swift Run Entrance at Route 33 is open north to the northern entrance of Byrd Visitor Center.
The Visitor Center is open until 4:30 p.m. Friday and will resume normal hours and days on Saturday.
All other sections of Skyline Drive remain closed to all access. The closed portions include Mile 5 to Mile 31.5 (Route 211) and Mile 42.6, just south of Whiteoak Parking, to Big Meadows, and Swift Run Entrance (Route 33) south to Rockfish, the southern terminus of Skyline Drive.
The National Park Service closed Skyline Drive on Dec. 14 ahead of the first winter storm system to impact the area. Shenandoah National Park crews began damage assessments and debris removal on Dec. 16.
One week later, a second winter storm passed through, delaying the crew's ability to progress toward reopening sections of Skyline Drive.
SNP mobilized an incident command team to address needs to assess damage, stabilize facilities and begin the process of restoring visitor access. Crews and equipment from other National Park Service locations as well as park volunteers have responded to the park's request to assist in these efforts.
Updates on ongoing response and stabilization efforts are available online at facebook.com/shenandoahnps and twitter.com/ShenandoahNPS.