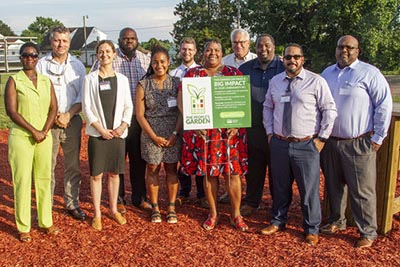 A busy commercial street in Richmond may strike some as an odd spot for a garden, but the former farmland that now houses Fairfield Middle School is actually a prime location for cultivating change at the local level.
The property has been used to feed students and neighbors for about 10 years now, first as an after-school enrichment program with two 8-foot beds and now a full-fledged growing operation and greenspace known as Cornerstone Farm. Last month, the site was also designated by the U.S. Department of Agriculture National Resources Conservation Service as one of 17 flagship People's Gardens selected to relaunch the popular initiative established in 2009.
People's Gardens empower communities to participate in local food production to help create more resilient food systems. They also convey the benefits of sustainable agricultural methods and how these activities can foster collaboration, provide green gathering spaces and benefit the environment.
Meg Campbell, a senior advisor to NRCS Chief Terry Cosby, attended last month's kickoff event with national People's Garden manager Shane Townsend to represent the Office of Urban Agriculture and Innovative Production.
Campbell joined Virginia State Conservationist Edwin Martinez in highlighting the significance of this designation and the effort to teach people how to cultivate more sustainably. Campbell shared how this site in Henrico County will serve as a national model for building community by producing nutritious food and inspiring the next generation through the experience of cultivating from seed to plant.
"Fairfield starts with an excellent, well-established farm site, supportive neighbors and a lot of student enthusiasm," Martinez said. "Urban ag is the sector with the most growth potential in terms of food production. We're excited about helping the school maintain and expand its operations and giving residents better access to fresh and healthy produce."
NRCS is contributing $25,000 to assist Fairfield and the nonprofit Community Food Collaborative, which helps manage the site, in making changes that will allow full use of the five acres of school property reserved for food production and orcharding. The funds will also support security measures that will permit adults to enter the garden area while school is in session.