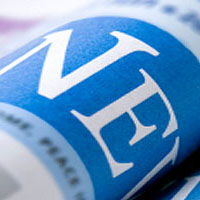 Item submitted by Camille Dierksheide
I'm very excited about about a new program I'm starting at the Staunton YMCA — Chef Camille's Cooking Academy. Starting November 4th, Chef Camille's Cooking Academy will offer classes every Tuesday at 6:30pm at the Staunton YMCA.
I firmly believe in the mantra of the fictional Chef Gaston in Disney's animated feature, Ratatouille – Anyone Can Cook!  To that end, each class, despite its exciting theme – like Turkey Talk and Holiday Hors d'oeuvres — will emphasize fundamental cooking skills so that students may turn away from the confines of recipe-based cooking and move toward the sky's-the-limit world of skills-based cooking, enabling them to create delicious food in their own kitchens no matter the season or their budget.
"Before going to Chef Camille's classes I was lost and uptight in the kitchen– a bad combination!  Camille has inspired me to become a well-equipped and confident chef and to respect my healthy body by fueling it with healthy but GOOD and simple food.  I am now way more adventurous in the kitchen, and I am saving money in the process because she taught me about resourcefulness in the kitchen, which is crucial with my "post-grad budget-crunching" lifestyle. … It has made all the difference in the kitchen and in my confidence about being a present chef and individual."  — Linde G.
Why are these classes at the YMCA?  Being in control of what we eat is central to taking control of our health and wellness, so the partnership with the YMCA makes perfect sense.  It's my mission to make cooking delicious food accessible to everyone.  My motto is simple — Learn a recipe; eat for day.  Learn to cook; eat for life.
Here are the Specifics:
Where:     Staunton YMCA, 708 North Coalter Street, Staunton, VA 24401
When:      

Tuesday's

beginning November 4–

6:30pm

-8:00pm
Tuition:    $30 for members/$40 for non-members.  Tuition is $5 more at the door. Packages of 4 classes for $100 (members) and $140 (non-members) may be purchased in-person at the YMCA.
Register:  YMCA Registration Page – cooking classes are listed under the "Recreation and Trips Section" (you must create a login to register)
About the Chef:

Camille Dierksheide is an honors graduate of L'Academie de Cuisine's Professional Culinary Arts Program, where she studied with two-star Michelin Chef Gerard Pangaud of Malmaison and Gerard's Place and Chef Patrice Olivon, former White House Chef and former Executive Chef at the French Embassy. Before attending culinary school, Ms. Dierksheide was an event planner for companies spanning a broad spectrum of industries.  After graduating from L'Academie she ran a successful boutique catering company in Alexandria, Beehive Catering, and a farm-to-table, solar-powered food cart in Arlington, Solar Crepes, which placed second in the Washingtonian's Food Truck Fight after only a few months on the street.   Ms. Dierksheide has a B.A. in International Affairs with a concentration in Russian and Eastern European Studies from The George Washington University.  She is an accomplished opera singer and performer and has sung across the U.S. and abroad. Camille, her husband David, their daughter, Fiona, and their Shih Tzu, "Niesha Lou", live in Staunton.  It was their passion for local, sustainably grown food that inspired them to relocate from Northern Virginia to Staunton.