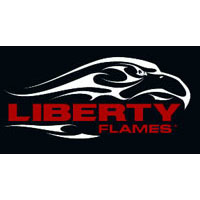 Liberty University Director of Athletics Jeff Barber has announced the hire of Nate Norman as Liberty's women's soccer coach, the seventh in program history.
Norman comes to Liberty following a successful four-year run as the head women's soccer coach at Western Michigan. During his time with the Broncos,
Norman posted a 44-27-14 record (60.0 winning percentage) and led Western Michigan to Mid-American Conference titles in 2013 and 2015.
"We are blessed to be able to add Nate Norman to our coaching family," commented Barber. "Nate has proved himself not only as an outstanding soccer coach but also as a strong leader of young women. He led his team to great success both on the field and in the classroom at WMU and I am confident he will do the same with the Flames. We all welcome Nate and Rachel to Liberty University."
During his second season in Kalamazoo, Mich., Norman helped turn a 5-9-4 program into a MAC conference championship. Western Michigan finished the campaign with a 12-6-5 record and advanced to the second round of the NCAA Women's Soccer Tournament.
The Broncos opened play in the NCAA Women's Soccer Tournament with a 1-0 win over No. 2 seed Marquette. Western Michigan's 12th shutout of the season and win over No. 8 nationally ranked Marquette was the largest upset in the history of the NCAA Women's College Tournament since its reorganization.
During the 2014 season, Norman led the Broncos to a return trip to the MAC Championship title game and a 13-8-1 record.
Norman earned MAC Coach of the Year honors in 2015 after leading Western Michigan to its second conference title in three seasons. The Broncos tied a program record with 14 victories en route to a 14-4-4 season.
Norman was also named the NSCAA Great Lakes Region Coach of the Year where Western Michigan ranked No. 7 in the final NSCAA Great Lakes region coach's poll.
The Broncos played No. 6 Notre Dame to a 2-2 draw during the 2015 regular season and dropped a narrow 1-0 loss to No. 5 Florida in the first round of the NCAA Women's College Tournament.
During his time at Western Michigan, Norman's women's soccer teams posted a 3.5 team grade point average each season and he had 17 players named to the MAC All-Academic Team in 2015.
Norman coached 16 MAC All-Conference players in four seasons and had 11 players named to the MAC All-Tournament team. Western Michigan posted 40 shutouts during Norman's time with the Broncos, including 12 each of his last three seasons.
"I would like to first thank Jeff Barber, Erin Hagen and the rest of the search committee for giving me this wonderful opportunity to coach the women's soccer team at Liberty," said Norman. "I feel extremely humbled and blessed at the chance to be able to take on this role."
"The faith mission of the school along with its willingness and ability to develop each student-athlete not only athletically, but also academically and personally resonates perfectly with me. The school's deliberate passion for serving others in the local community and also in the world make it a very special place."
"Liberty has the unique capability to not only have an elite women's soccer program, but more importantly to genuinely make a difference in each student-athlete's life. I am very excited to be part of the athletics department and the Liberty community as a whole."
Prior to taking the head coaching position at Western Michigan, Norman served as an assistant women's soccer coach at Miami (Fla.) in 2011.
He helped the Hurricanes post a 10-8-1 record and capture the program's first-ever NCAA Women's Soccer Tournament win with a 3-2 double overtime victory against Alabama.
Norman became familiar with Western Michigan's program in 2010 when he served as an assistant coach. The Broncos posted a 12-6-4 record and advanced to the MAC Championship title game, while Norman had the opportunity to work with the MAC Offensive Player of the Year.
Norman broke into the college coaching ranks working as a volunteer assistant coach for the Notre Dame men's soccer program in 2007. The Fighting Irish posted a 14-5-5 record that season and advanced to the NCAA Men's Soccer Tournament quarterfinal where they lost, 1-0, to eventual national champions Wake Forest.
Norman spent the 2009 season working as a men's assistant coach at Covenant College in Chattanooga, Tenn. During his one season with the Scots, Norman helped the Division III program post a 13-6-2 record.
Norman graduated from Notre Dame in 2007 with a Bachelor of Arts degree in theology. During his career as a student-athlete with the Fighting Irish, Norman tallied nine goals and 15 assists over his four seasons.
The forward/midfielder was named to the BIG EAST Academic All-Star Team three of his four years. Throughout his career. Notre Dame participated in the NCAA Men's Soccer Tournament all four years, including making it to the NCAA quarterfinals his senior year where they lost to Virginia, 3-2. His teams also captured a BIG EAST regular season title in 2004 and a BIG EAST tournament championship in 2003
After his career with Notre Dame, Norman was drafted 21st overall by the Chicago Fire in the 2007 Major League Soccer SuperDraft. In 2008 he played professionally for the Charleston Battery of the USL division 1, and in 2009 he played for the Carolina Railhawks also of the USL division 1.
Norman was a three-time NSCAA All-American at Rochester Adams High School in Rochester, Mich. He also was a McDonald's All-American his senior year, as well as being included in Parade Magazine's top 20 college soccer recruits in the country as a senior.
Norman also competed on the U16, U18, and U20 United States national teams during his time in high school and throughout college. He was able to participate in some of the highest level tournaments throughout the world.
Norman, a native of Rochester, Mich., is married to the former Rachel De Steiger.