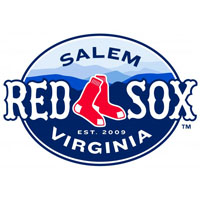 For the second straight game, the Salem Red Sox took the lead in the eighth inning and held on to beat the Winston-Salem Dash 2-1 Sunday afternoon at BB&T Ballpark.
Yoan Moncada stroked a leadoff double against Dash (28-42) starter Thad Lowry in the first inning, and two batters later scored on a Mike Meyers single to put Salem ahead 1-0.
Salem (43-26) starting pitcher Matt Kent continued his run of strong pitching by handling the Dash Sunday afternoon. The southpaw notched his sixth quality start of the season, lasting 6.0 shutout innings, scattering five hits, walking one and striking out three.
In Kent's last five outings, he sports a 1.45 earned run average, having allowed five earned runs in 31.0 innings. He has a 24:4 strikeout-to-walk ratio and a perfect 3-0 record in that span, too.
Lowry settled down after allowing the run in the first to shut out the Red Sox in his final five innings of work. He was removed after one batter in the sixth when a Rafael Devers line drive struck him on the hip.
Winston-Salem tied the game at one in the bottom of the seventh against Mario Alcantara (6-0), when a pair of wild pitches enabled Marcus Davis to score after a single earlier in the frame.
In the top of the eighth, the Red Sox regained the lead against reliever Manny Martinez, when Moncada skied a solo home run to right field to complete an epic 10-pitch at-bat.
Three Red Sox hitters – Devers, Meyers and Moncada – had multi-hit games in the first half finale, and all three players made terrific plays in the field to contribute to the victory.
Simon Mercedes tossed a scoreless eighth inning, working around a two-out double, and Bobby Poyner cleaned up the Dash in the ninth to record his third save with Salem.
With the win, Salem completed their best first half in the Red Sox era (2009-present), and recorded their second-best first half record in overall Salem baseball history. Only the 1974 Salem Pirates (47-23) had a better first half record than the 2016 Red Sox.
The Red Sox enjoy a three-day break with the California-Carolina League All-Star Game taking place in Lake Elsinore, Calif. this week. Salem returns to action Thursday at LewisGale Field as the club hosts the Frederick Keys for a four-game series. First pitch Thursday is scheduled for 7:05 pm. For tickets and more information, call (540) 389-3333 or slide towww.salemsox.com/tickets.