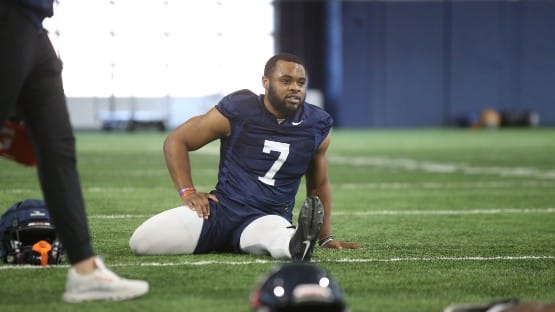 A reporter, after Tuesday's UVA football practice, asked Mike Hollins, a running back who was seriously wounded in the Nov. 13 shootings at the University of Virginia that killed three of his teammates, if, in the four months since that night, he'd gotten any answers about why things had to happen the way they did.
His answer was quick, but also haunting.
"No answers at all, and I won't get an answer," said Hollins, who, miraculously, given all that has happened, was back with his teammates for the start of spring practice last week as a full participant.
Hollins spent 20 minutes taking questions from the media on Tuesday, his first extended Q&A since the tragic events of Nov. 13 that took the lives of teammates Devin Chandler, Lavel Davis Jr. and D'Sean Perry.
The four were among a group of UVA students who had spent the day – a Sunday following a 37-7 home loss to Pitt – on a field trip to Washington, D.C., to take in a performance of The Ballad of Emmett Till, the first in a trilogy of plays about the 1955 lynching of a 14-year-old that was among the moments that sparked the civil rights movement.
As the charter bus that had taken the group back and forth to the nation's capital was arriving back on Grounds, one of the students on the trip, Christopher Jones, 23, a fifth-year UVA student, opened fire.
For reasons still unknown, Jones shot Chandler, a third-year student-athlete, as Chandler was asleep in his seat, then shot Davis, a third-year student-athlete, and D'Sean Perry, a fourth-year student-athlete, and a fourth UVA student, Marlee Morgan.
As the shots rang out, Hollins, seated near the front of the bus, helped steer fellow students off the bus to safety, then returned to try to help render aid to those who had been shot.
As Hollins tried to make his way back onto the bus, he was confronted by Jones, who shot at Hollins as he turned to try to shield himself.
The bullet hit Hollins in the back, damaging his kidneys and small intestine, life-threatening wounds that ultimately required two surgeries.
When he woke up in the hospital, Hollins was told it could be four to six months before he would be able to put his own socks on, "but the second day, I got up and went to the restroom, like it was normal. And the nurse came in and was, like, you know, You're out of bed, why are you walking around?" Hollins said.
Being able to get out of bed on Day 2 was a bit of a miracle, the first of many with this story, and he was released from the hospital on Nov. 21.
Hollins was able to complete his work toward his undergraduate degree in December, but he admitted that "football was the furthest thing" from his mind for a while after the shootings.
"I wasn't capable of thinking of anything else besides, you know, everything that went down here on campus, how I could keep their flame lit, how I could keep my flame lit and keep myself going, you know, put on the veil when I go outside of the house, and, you know, be that inspiration everybody looks at me to be, and it was tough but, you know, I'm still going," Hollins said.
The experience, at the outset, was "overwhelming," Hollins said, but "just being around my teammates, and my coaches, and, you know, from top to bottom, the support has been amazing. From Miss Carla (Williams, the UVA athletics director), to, you know, the janitors to the people in the dining hall, they're all, you know, showing great support."
"I just feel really blessed to be to be back on Grounds, and to be able to continue, you know, my dream, my former teammates' dream, graduate this past December, graduate again in December, so it's just a lot of a lot of blessings in some tough times that are hard to see. But I try to continue to, you know, move forward," Hollins said.
The physical part of the recovery was tough, as you can guess.
"Digestion, just being able to, you know, lean back, lean over, because with the surgeries, there was a lot of, you know, stitches and staples in my abdomen. So, I just had to relearn how to use, you know, my core again and rebuild the muscles around that," Hollins said.
The harder part, and something that is still ongoing, and may be ongoing for years, maybe for the rest of his life, has been the mental and emotional recovery.
"It's a day-by-day process," Hollins said. "There is no playbook, there is no plan to how it was done, or no routine, it's just when you go through something as tragic and traumatic as I did, it's something that you feel anxious about. Because you're looking for a change in how you feel and how you think day by day, but the quicker you move out of the anxious feeling, and start taking it day by day, and just listening to your mental, listening to your body, and just using the support around you to keep you focused and keep you in a good mental space, and just balancing that, it's tough, and it's overwhelming."
A reporter asked Hollins if he considered leaving UVA, and he said he, in fact, did give leaving some thought.
"I feel like anyone would think about leaving after something like that. But I also thought, what better place to, you know, refine, you know, who I am and reestablish my mental, than the place that, you know, everything took place," Hollins said. "I could have left, I could have transferred, but I just think that is sweeping things under the rug and not handling the situation as best as I could. I think the best place for me to move forward, not move on, but move forward with and carry everything, is from Charlottesville, with the people who shared that experience with me.
"No one across the country feels the way we feel here in the facility. No one in the country knows how I feel about the situation, besides the people here in this facility," Hollins said. "And I got an uneasy feeling when I thought about leaving, because I could have left, but what if the coaches didn't, I didn't have the same support, because they didn't they didn't go through the experience with me. They didn't know D'Sean. They didn't know Lavel. They didn't know Devin. So, just those little things is what kept me here. And I'm glad I stayed, because this support is what I need right now to get through."
The physical part of his rehab is at the stage where Hollins needs to emphasize "taking it really, really slow," which isn't easy for a hard-charging college football player.
"Just not trying to rush anything, taking it day by day, being honest with the trainers, being honest with the coaches, on how am I feeling. Because they know, and I know, my mind is right, and I will jump on the field at any time. But my body has to be right, and I have to listen to my body. So, that's just what we've been trying to do," Hollins said.
He's come a long way in a short time, from being told it would take him months to be able to put his socks on by himself to being a full participant at spring practice.
"I was supposed to not do anything for a month or two. I was trying to touch my toes trying to get my rehab started the day I woke up in the hospital. It didn't have to be physical rehab, it was, I couldn't move, so it was all mental. Just trying to get myself ready to transition, ready for this transition," Hollins said.
"The physical part was by far the easiest of this whole experience," Hollins said. "Recovering is something I've been doing since I was five years old playing peewee football. So, it's something that you don't have to think about, it's within that the body naturally does. But the mental aspect, the mental recovery, is brand new to me. It's something that I had to learn day by day. I'm still learning day by day, still taking it slowly."
A week into spring practice, Hollins said he hasn't noticed any drop-off athletically from where he was before the shooting.
"It may just because I'm pushing extra hard now. I have a lot more to play for. So, if there is a drop-off, I'll make up for it," Hollins said.
"Another aspect with my leadership was helping and leading the young people that look up to me a lot more than they did naturally," Hollins said, "just because, it is literally a miracle that I'm here today, and I'm just living that out. My mom tells me be a blessing to others, make someone smile, make someone's day every day, and just spread my blessing. So, that's what I try to do."
Hollins conceded in one answer that the progress of his recovery would be "a lot different if I wasn't able to play football again."
"If I wasn't able to join my teammates again on the field or strap my helmet up again, I do believe mentally recovering would be a lot more tedious, and I would have to find new ways to cope and to just recover, because getting out here on the field is just freedom for me. It's freeing for me. It's, I don't have to think, I just play," Hollins said.
"I expected to recover physically already, so it really wasn't on my mind, How am I gonna get back, it was more of man, How am I gonna even make it to practice without calling D'Sean or, you know, just the little things. It was more the mental. It was never ever physical for me, because I always expected to be able to squat what I used to squat or power clean when I used to power clean or running as fast as I used to. But it's the things that I couldn't change that bothered me the most," Hollins said.
The experience has changed Hollins, as you might expect.
"Oh, it inspired me to push harder in everything," he said. "I was just talking earlier how it inspired me more off the field than on the field. It opened my eyes to a lot of things, that football is such a small part of life, such a small part of, you know, my journey. And you know, losing my brothers, it was just like, Wow, it can be gone at any moment, so how can I keep their keep their flame lit?
"And I didn't want to just do it through football," Hollins said. "It's broadened to, calling my little brother, you know, every night, making sure he did his homework, making sure you stretch and drink water, calling my mom, making sure she's drinking her water and making sure she's OK. My grandmother, my sister, you know, teammates, it just, it spread. And it's just, showing gratitude and appreciation is something I really gained from this experience. And it has all around made me more determined to be better everywhere just for, you know, the ones I've lost and just so I can be comfortable in saying that I'm caring for their legacy."
After the question about why what happened on Nov. 13 happened, and Hollins' answer, that he hasn't gotten any answers, and knows he won't ever get an answer, came the follow-up:
How do you deal with that?
"Day-by-day patience and trusting God has a plan for me," Hollins answered, again, without hesitation.
"I'm put in this position for a reason. I'm put in this position to inspire, to bless others, and I'm trusting in that."