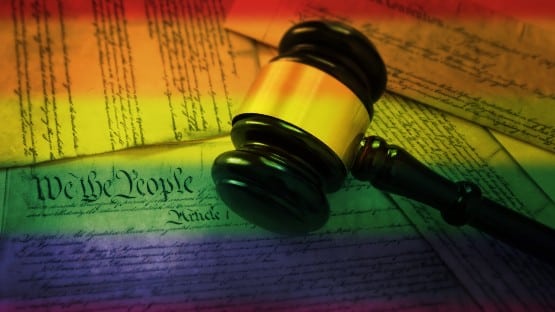 A Montana man faces a life sentence after a federal jury convicted him on hate and firearms crimes for firing an assault rifle to target a lesbian woman in her home, in connection with a plot to rid a small town of gays and lesbians.
The jury found John Russell Howald, 46, of Basin, Mont., guilty of hate crime acts and discharge of firearm during and in relation to a crime of violence as charged in a superseding indictment.
According to court documents and statements in court, on March 22, 2020, Howald went on a self-described mission to rid the town of Basin of its lesbian and gay community. Armed with three rifles and two pistols, and knowing that the victim identified as a lesbian, Howald approached her residence on foot and fired an AK-style assault rifle at her property.
Several rounds went through the victim's fence and rounds hit her yard and porch. One round traveled through a wall of the home, bounced off the kitchen ceiling and lodged in a wall in the room. The victim was at home at the time, but was not struck.
After firing at the victim's house, the government alleged, Howald walked down the street toward other houses occupied by people who identify and are known locally as gay or lesbian. A church service had just finished, and individuals leaving church saw Howald walking on street, recognized him and approached.
The individuals heard Howald talk about his mission of killing lesbian and gay people in town and saw his weapons. They approached and tried to talk Howald down. One of those people, a pastor, unknowingly had left on a recording device that he used for his sermons. The device recorded about 10 minutes of his interaction with Howald, until Howald demanded that the pastor walk away.
The recording captured Howald making statements that he might have killed a lesbian and that he hoped he had, and that he was going to get rid of lesbians and queers in Basin.
The recording also captured Howald firing off several more rounds during his interaction with these individuals.
Responding to a 911 call to the scene, a Jefferson County Sheriff's deputy ordered Howald to put down his guns. Howald refused, pointed a rifle at the deputy and fled on foot, firing at least one more shot as he went.
Sheriff's officers arrested Howald the next day and found that he had a knife and loaded pistol on his person and an AR-style rifle and revolver in his car.
During a search of his camper, officers found an AK-style rifle, a hunting rifle and ammunition.
"This defendant is being held accountable for attempting to violently eliminate the entire LGBTQ community in a small Montana town," said Kristen Clarke, Assistant Attorney General of the Justice Department's Civil Rights Division. "This hate crime and violent campaign targeting the LGBTQ community is a reminder of the epidemic of hate violence targeting people based on their sexual orientation. All people have the right to feel safe in their homes and communities, regardless of who they love. The Civil Rights Division will continue to work with our federal, state, and local partners to safeguard the civil rights of LGBTQ people affected by hate violence, hold perpetrators accountable, and ensure justice for victims of bias-motivated crimes."
"The victim in this case was targeted by the defendant for no other reason than her sexual orientation when he fired bullets at her home while she was inside of it. There will be zero tolerance by our office in prosecuting those who commit hate crimes against our fellow Montanans, as no one should have to live in fear of potentially deadly violence simply because of whom they love," said U.S. Attorney for the District of Montana Jess Laslovich. "I am pleased the jury agreed with us and I sincerely thank Assistant U.S. Attorney Ethan R. Plaut and Trial Attorney Eric N. Peffley, Criminal Section, Civil Rights Division, U.S. Department of Justice, along with the FBI, Bureau of Alcohol, Tobacco, Firearms and Explosives and Jefferson County's Sheriff's Office for investigating and prosecuting this case."
"Hate crimes are especially devastating because a vicious act against one person is an attack on an entire community," said Acting Special Agent in Charge of the FBI Salt Lake City Field Office Cheyvoryea Gibson. "I want to reassure Montana citizens the FBI is committed to defending and protecting the rights of all persons and encourage the public to report hate crimes to the FBI and local law enforcement."
Howald faces a maximum of life imprisonment, a $250,000 fine and five years of supervised release on the hate crime conviction and a mandatory minimum 10 years to life imprisonment, consecutive to any other sentence, a $250,00 fine and five years of supervised release on the firearm conviction.